Misleading and Deceptive conduct

Although the COMPETITION AND CONSUMER ACT 2010 (CCA 2010) declares misleading and deceptive conduct to be unlawful, the Defamation Act 2005 can be used to render misleading and deceptive conduct lawful.

Though the use of defamation law to achieve a collateral purpose which intends to allow someone to continue to mislead and deceive without penalty should be unlawful, it is being successfully employed against us. This demonstrates that a defamation lawsuit can be brought against anyone with the intention of achieving a collateral purpose. If this were otherwise the defamation claim against us would already have been struck out.

To anyone who wants to trade by misleading and deceiving those they trade with, defamation law is the means by which such a trader may continue to mislead and deceive without being penalised. The Defamation Act can be used to force evidence to disappear; and if your business does fail because knowledge of your deceptions becomes widely known, you can sue to be compensated for losses you made because of your own practices that made your business fail. And this can be accomplished by claiming that it was not your own bad practices that caused your business to fail, but rather because someone wrote or talked to others about your bad practices.

Robert Cripps (Robert Raymond Cripps) trades as "Redleg Museum Services" or as "Redleg Art Equipment Trucks & Crating", or as "Guildford Lane Gallery" ("GLG") or as "Ruby's Music Room" ("RMR"). Robert Cripps is using the Defamation Act to prevent knowledge of his trade practices becoming widely known so that only his own marketing is available. And, as such practices on becoming known would lead to a decline in trade, defamation law allows him to recoup the losses he makes by using such unlawful practices by suing those who make known to others of his use of such practices that led to the decline of his business.

Cripps misrepresented himself to us in order to gain our business and made whatever inducements he believed were necessary to secure our agreement to exhibit in his gallery.

Cripps owned/ran an "art gallery", a space for hire, as part of his "Redleg" business. Cripps made claims about his and his gallery's intentions. In summary, as they were presented to us (orally on January 24 2009), he claimed that he aimed, with his business (Redleg, which included his gallery GLG), to foster and promote the arts. He promoted his gallery as some sort of arts-culture-hub which was being run for the benefit of artists and those so culturally inclined, though maybe not in these exact words.

On the kind of words that could be used to describe GLG as being run as some sort of arts-culture-hub which was being run for the benefit of artists, below (screenshot from 14 August 2009, added 21/9/2013):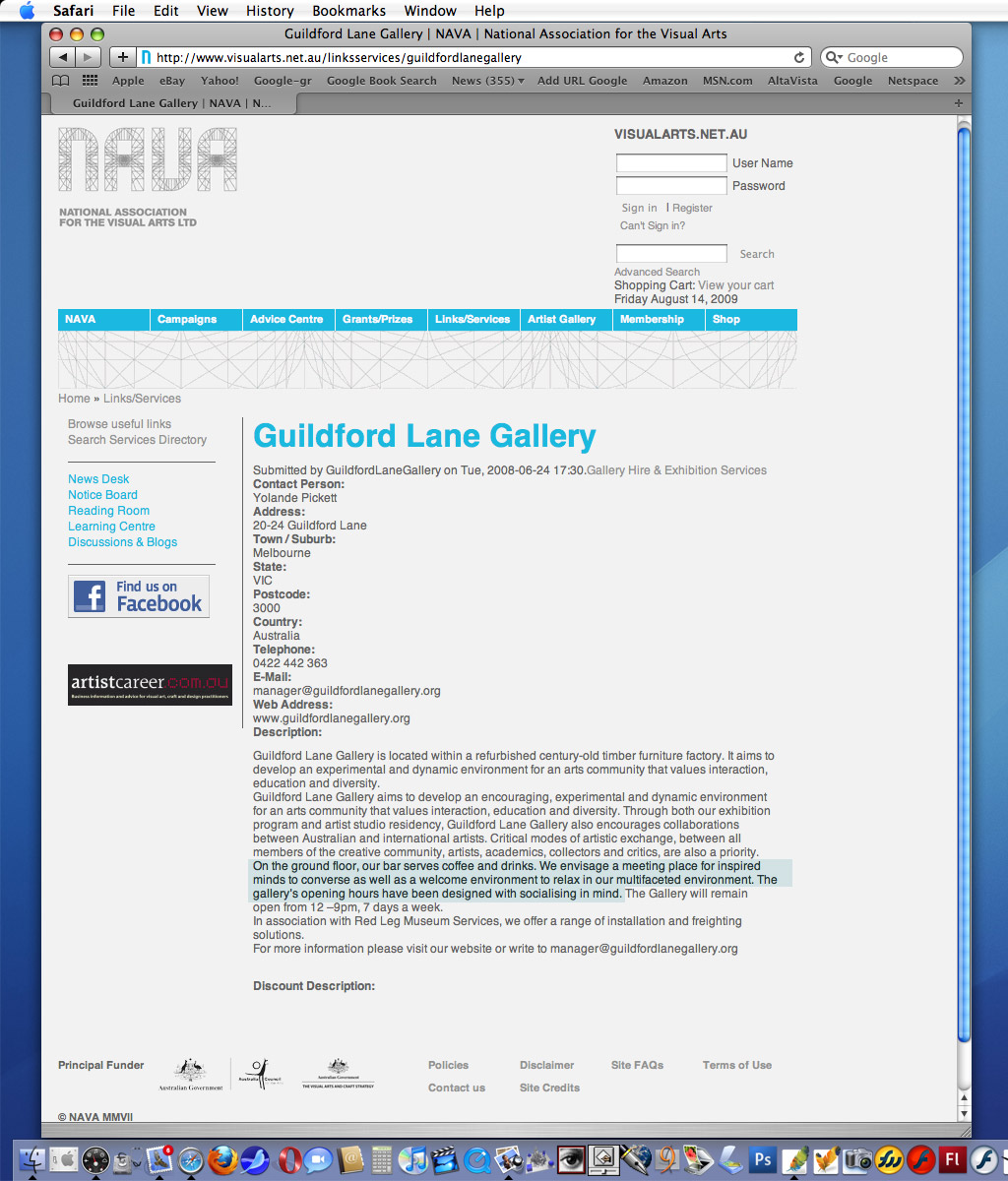 Cripps made these claims on his own websites.

On his "Redleg" website he claims that he has a, "commitment to servicing and developing the arts in Australia…"
He is more than just a transporter, he is a "sponsor", as his "sponsorship" page claims, below.


"Evidence" of his past "sponsorship" of "the arts" even exists independant of him that lends support to his claim of "sponsorship". He has "sponsored", in some way at least, one exhibition and the book that accompanied that exhibition some time in the 1990s, below:


On his Guildford Lane Gallery page, Cripps proclaimed that it was his "MISSION" to "develop" and "encourage" a "dynamic environment for a community that values interaction" in the "arts", and that he also served to "educate", below: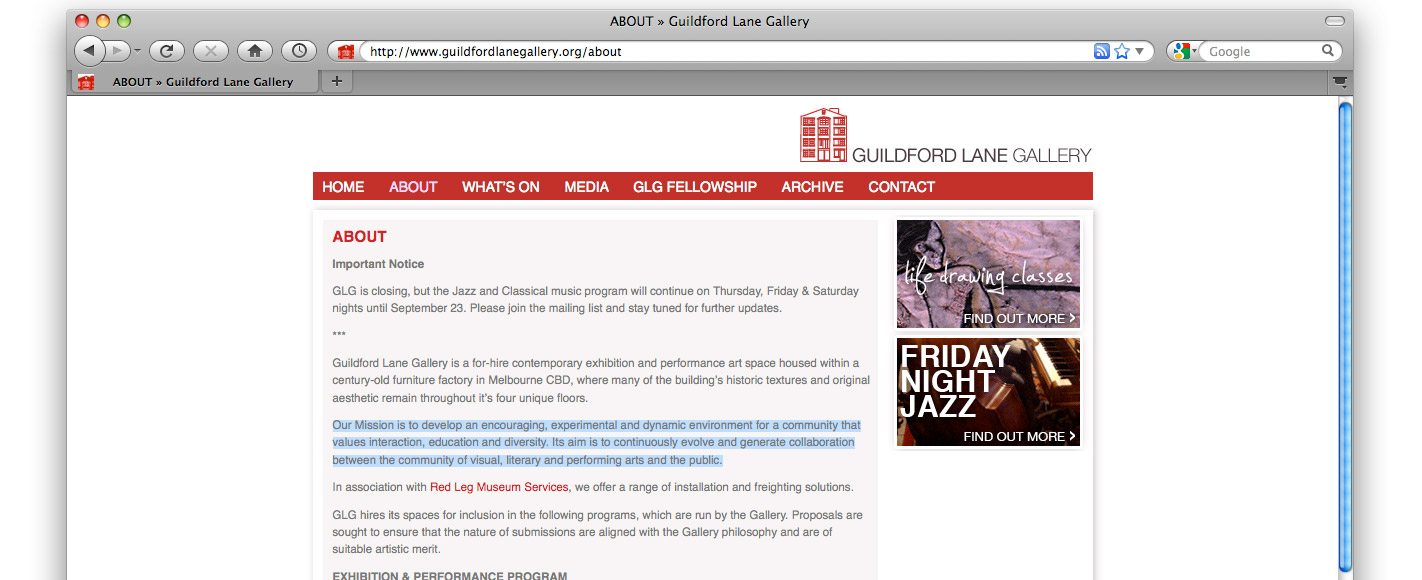 After failing with GLG, Cripps opened a new venue, "Ruby's Music Room", "RMR". Unsurprisingly this tireless worker for the advancement of high culture is relentlessly pursuing the same aim that he claims has characterised him all his life, "His life's passion lies in music and the arts, and he aims to create an environment where creative pursuits can develop and prosper", below:


He even modified his RMR page to share with us that he has had over 40 years involvement in "the arts", in his beforementioned "passion", below!


Entirely on his own say-so (Cripps' own marketing) Cripps is one dedicated man.

And not only has Cripps striven selflessly - on his own say-so - on behalf of the arts, but the impression he strives to create is that he is very "much loved" for doing so; that is, he is claiming that he is "universally" recognised as being of this nature, and with this again based entirely on his own say-so. On his GLG website Cripps claims that his galley was much loved: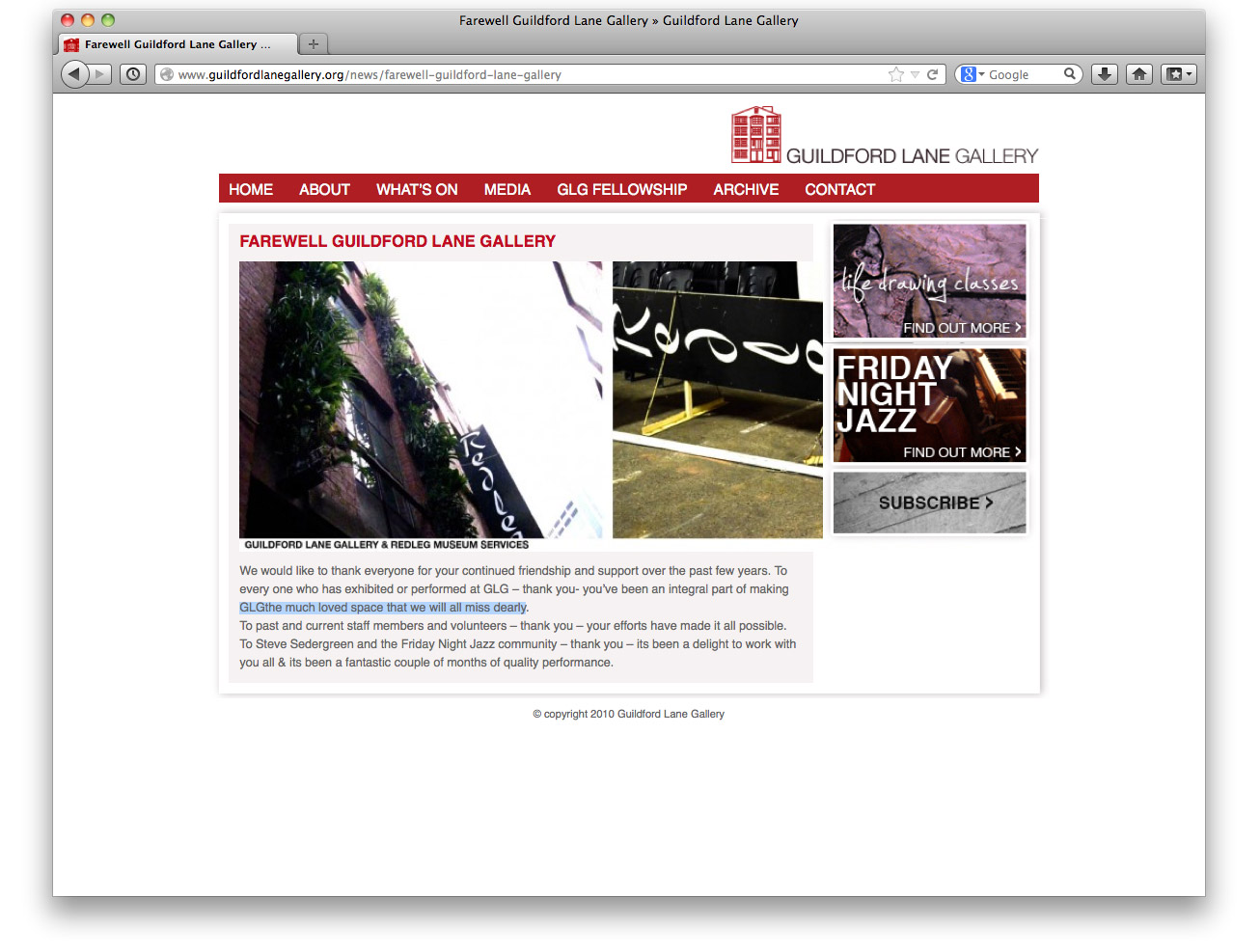 And, in opening his new venture in 2013 (I understand that he opened his doors at this time) he repeats the claim, "The team behind one of Melbourne's much loved galleries and performance spaces, Guildford Lane Gallery are very proud to present Ruby's Music Room." ( http://rubysmusicroom.tumblr.com ), below:


The only information Cripps wants known is what he himself proclaims (his own marketing). And his own marketing has it that he and his gallery are very much loved. Based on his own claims, his raison d'être is art and artists for whom he selflessly exists and that he is acknowledged and loved for this. Cripps has created and is marketing a false reputation based solely on his own claims. How you wish to market yourself is not your reputation. However, for Cripps it apparently is, and because his actions during our exhibition at his GLG are in marked contradiction to his own marketing, he is suing us for defamation. We have injured his false and misleading marketing.

Though unlawful to foster a misrepresentation to procure business according to the CCA 2010, Cripps can use Defamation to suppress the fact that he is misrepresenting himself.

Cripps does not want it known that he put up disclaimers at our exhibition or why he put them up. It makes him look unsupportive, which is not how he wants to advertise himself. As it makes him look bad, defamation law allows him to sue to "disappear" evidence so that only his own advertising remains. Below, one of the 3 (or 4) disclaimers of liability over our content that Cripps put up during our exhibition: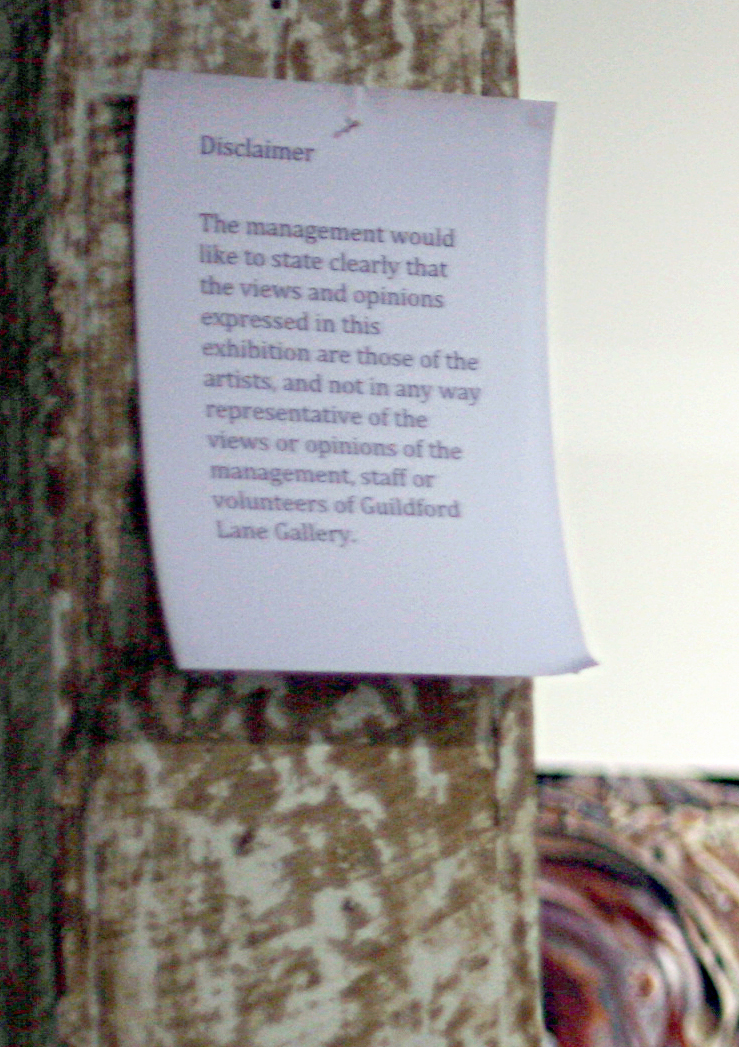 A CRIPPS HOW-TO GUIDE

Cripps had associations with artists and arts institutions. As a demonstration of his bona fides Cripps even managed to procure Stelarc to make a speech at the galley's inaugural opening. Below, Stelarc making his speech, to loud applause, at GLG in August 2008: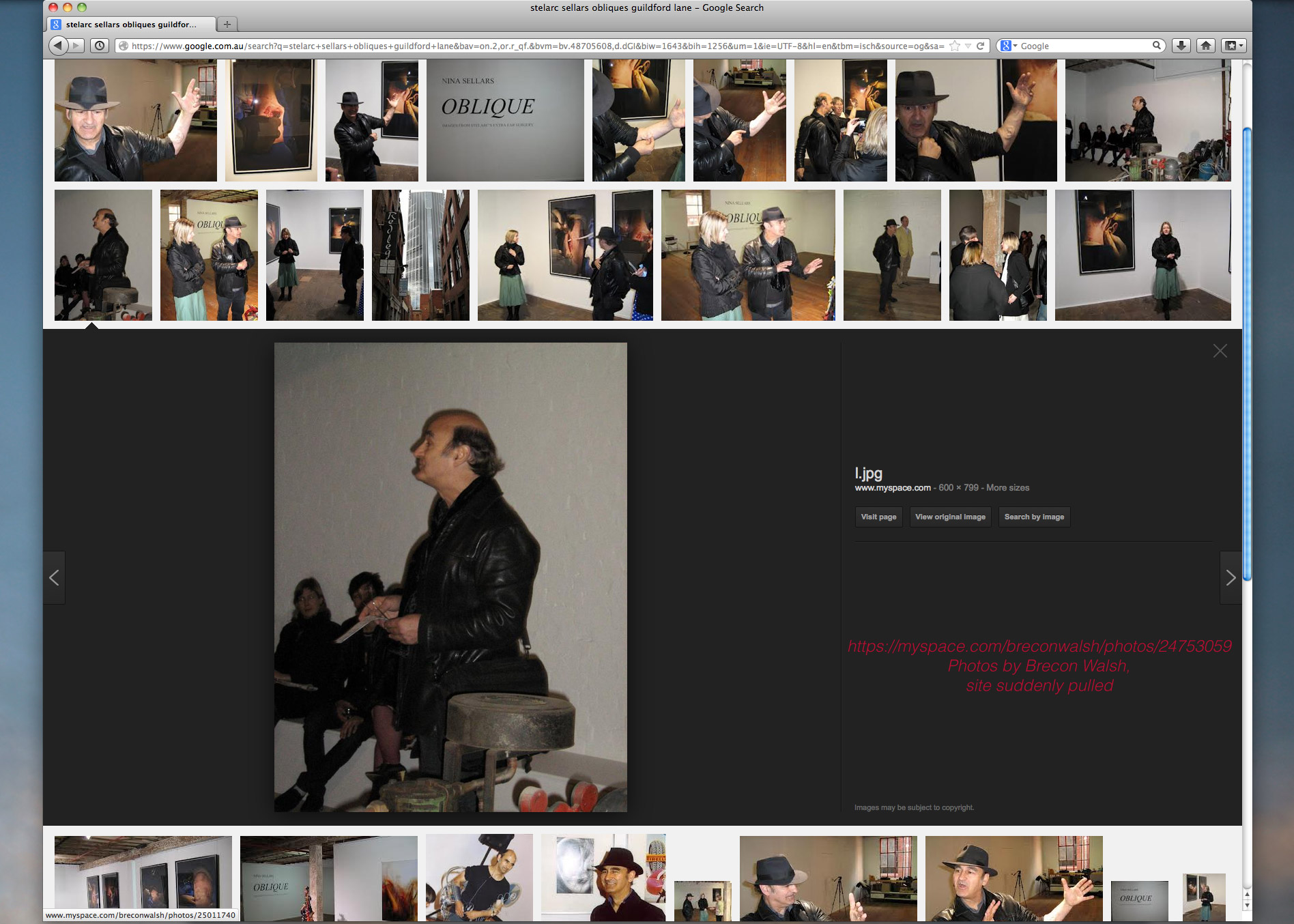 And, not only was the show at GLG of Stelarc's 3rd ear, but it was also sponsored by Cripps!

…or so the impression created in me was (I am still uncertain of whether Cripps sponsored Sellars or not).
The Australia Council sponsored the exhibition by Nina Sellars that featured her documentary photographs of Stelarc's surgical procedure. Sellar's own material stated, "This project has been assisted by the Australian Government through the Australia council…" And, alongside the Australia Council logo is Cripps' own GLG logo which means that Cripps appears as a sponsor too.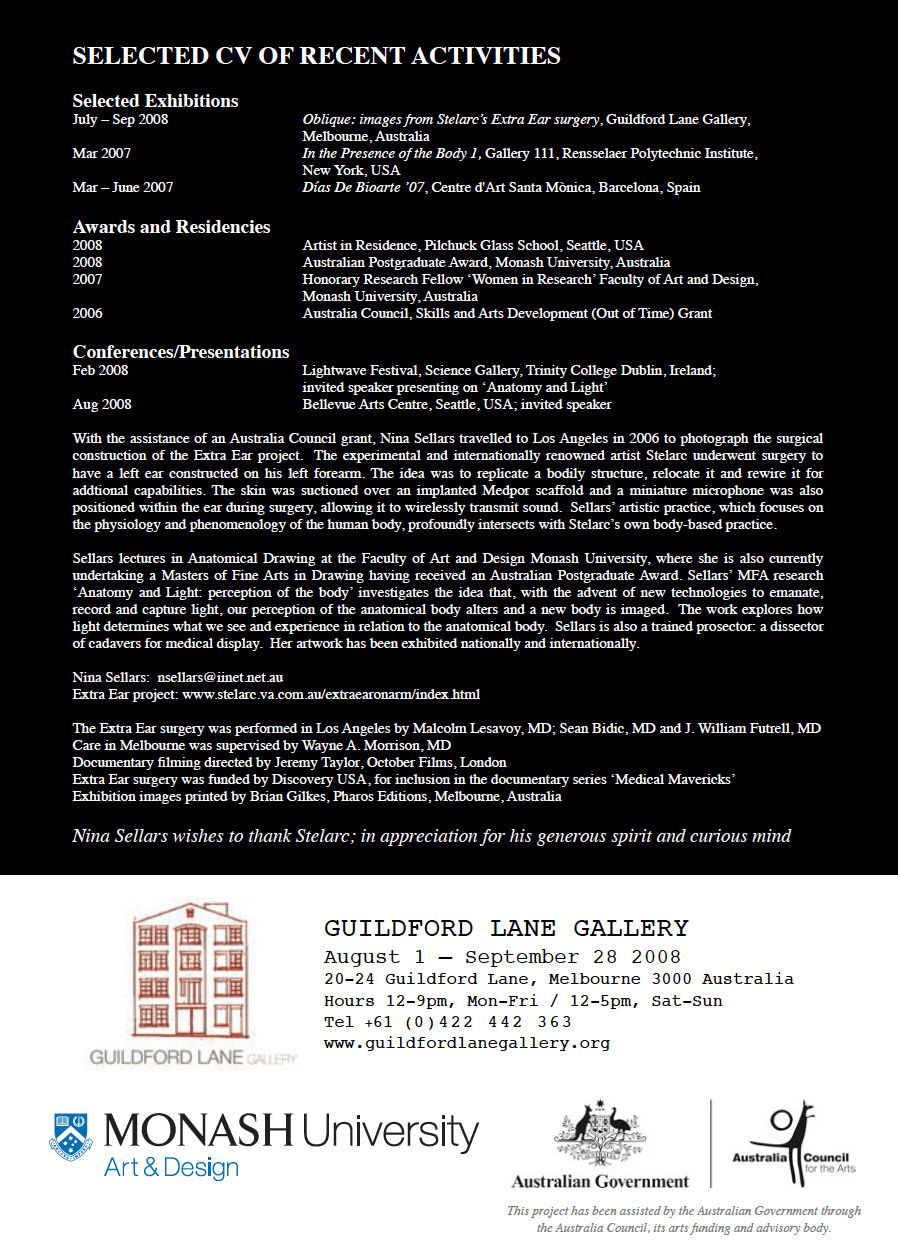 It was not until we were locked into a contract for us to exhibit at GLG that we realised why his GLG logo was used: Cripps was not a sponsor of the shows held at his gallery – the inclusion of his logo was a part of his contract*.

(*The exhibition involving Nina Sellars and Stelarc was organised before GLG existed. Nina Sellars and Stelarc were therefore involved in establishing GLG. This exhibition to launch GLG was of enormous importance. It established Cripps' bonafides. As Cripps was to benefit from the exhibition of Sellars/Stelarc he may have sponsored the show.)

Below, Cripps' logo whose use would be misleading and is misleading is mandatory for exhibitors:
"5. Hirer's Responsibilities The Hirer must:
e. include the Gallery logo (electronic copy provided upon request) on all publicity and promotional material, including posters, programs, catalogues and electronic invites."
(the contract can be found here: http://www.redlegvartists.com/agreement_Raymond%26Vakras.pdf )

If the wording of Cripps' clause sounds familiar to artists, it is because this is the wording every artist who has ever applied for or received a grant has read in making their application.

The Arts Victoria logo for example, is mandatory on receipt of a grant from the Victorian government, and this obligation is made in near identical language to that used by Cripps in his contract.

Cripps, like Arts Victoria, makes it an obligation to include his logo on "promotional material", on "posters" and "catalogues".

Arts Victoria require all FUNDING RECIPIENTS include their logo on artists exhibition material to show that the exhibition is funded.


The inclusion of Cripps' logo, DELIBERATELY CREATED THE IMPRESSION THAT CRIPPS SPONSORED OR FUNDED THE ART EXHIBITED!

DECEPTION AND THE ACCC

According to the ACCC it is immaterial for us to prove that Cripps intended to mislead us; all we have to show is that we were misled. Cripps along with his Gallery Manager Yolande Pickett had made it known that there were clear benefits to our exhibiting at his gallery (and not another), because his gallery had volunteers, a feature we had never before encountered in a gallery that exhibits art for sale. Volunteers are a feature of institutional museums/ galleries such as the NGV, ACMI, ACCA, Heide, etc, none of which are for-profit and none of which exhibit works for the purpose of selling them.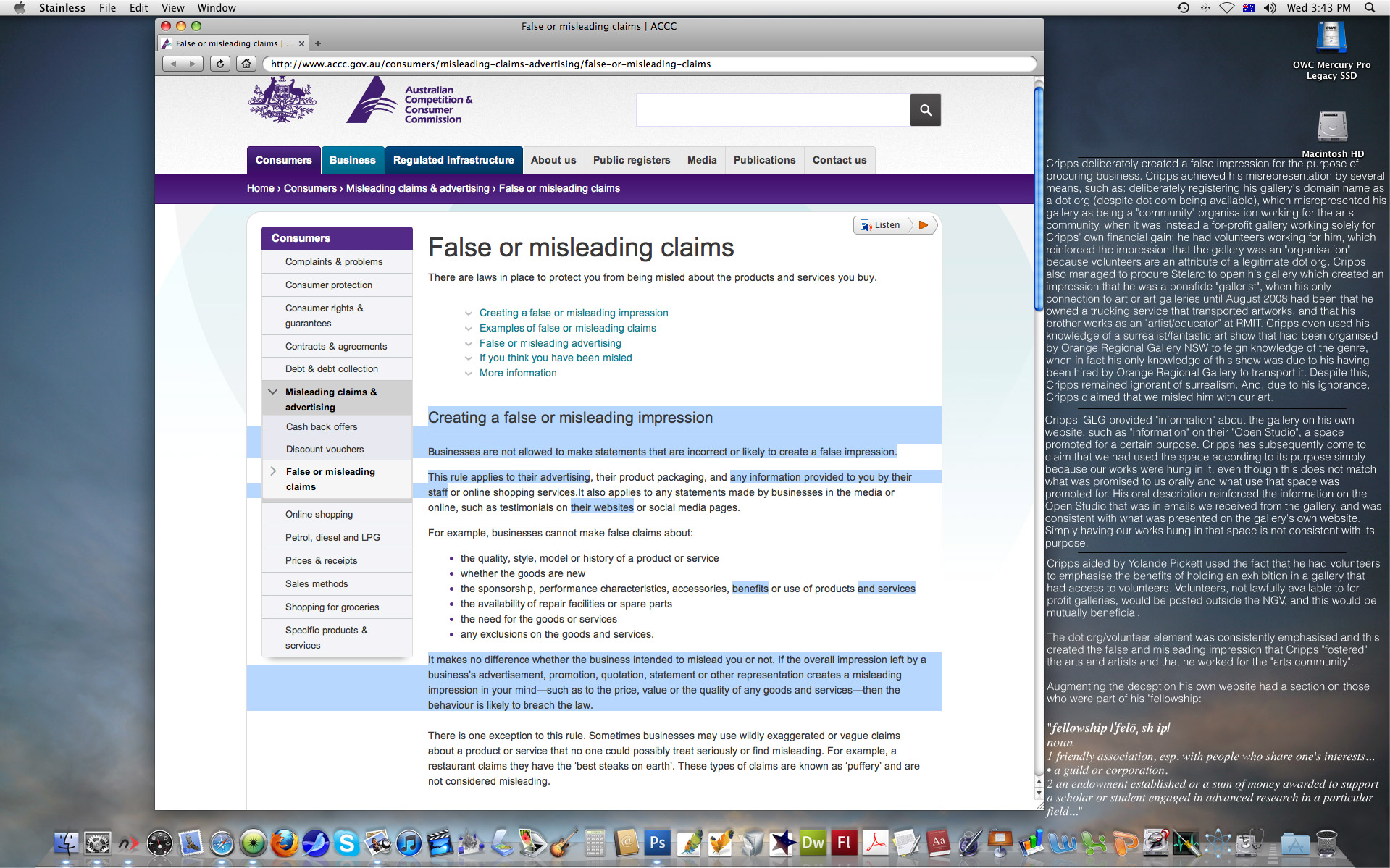 Cripps deliberately created a false impression for the purpose of procuring business. Cripps achieved his misrepresentation by several means, such as: deliberately registering his gallery's domain name as a dot org (despite dot com being available), which misrepresented his gallery as being a "community" organisation working for the arts community, when it was instead a for-profit gallery working for Cripps' own financial gain; he had volunteers working for him, which reinforced the impression that the gallery was an "organisation" because volunteers are an attribute of a legitimate dot org. Cripps also managed to procure Stelarc to open his gallery which created an impression that he was a bonafide "gallerist", when his only connection to art or art galleries until August 2008 had been that he owned a trucking service that transported artworks, and that his brother works as an "artist/educator" at RMIT. Cripps even used his knowledge of a surrealist/fantastic art show that had been organised by Orange Regional Gallery NSW to feign knowledge of the genre, when in fact his only knowledge of this show was due to his having been hired by Orange Regional Gallery to transport it. Despite this, Cripps remained ignorant of surrealism. And, due to his ignorance, Cripps claimed that we misled him with our art.

Cripps' GLG provided "information" about the gallery on his own website, such as "information" on their "Open Studio", a space promoted for a certain purpose. Cripps has subsequently come to claim that we had used the space according to its purpose simply because our works were hung in it, even though this does not match what was promised to us orally and what use that space was promoted for. His oral description reinforced the information on the Open Studio that was in emails we received from the gallery, and was consistent with what was presented on the gallery's own website. Simply having our works hung in that space is not consistent with its purpose.

Cripps aided by Yolande Pickett used the fact that he had volunteers to emphasise the benefits of holding an exhibition in a gallery that had access to volunteers. Volunteers, not lawfully available to for-profit galleries, would be posted outside the NGV, and this would be mutually beneficial.

The dot org/volunteer element was consistently emphasised and this created the false and misleading impression that Cripps "fostered" the arts and artists and that he worked for the "arts community".

Augmenting the deception his own website had a section on those who were part of his "fellowship":

"fellowship |ˈfelōˌ sh ip|
noun
1 friendly association, esp. with people who share one's interests...
• a guild or corporation.
2 an endowment established or a sum of money awarded to support a scholar or student engaged in advanced research in a particular field..."
REGISTRATION OF GLG:

Cripps registered GLG as a business in the first week of 2008. The details of this can be found on the ASIC website, below: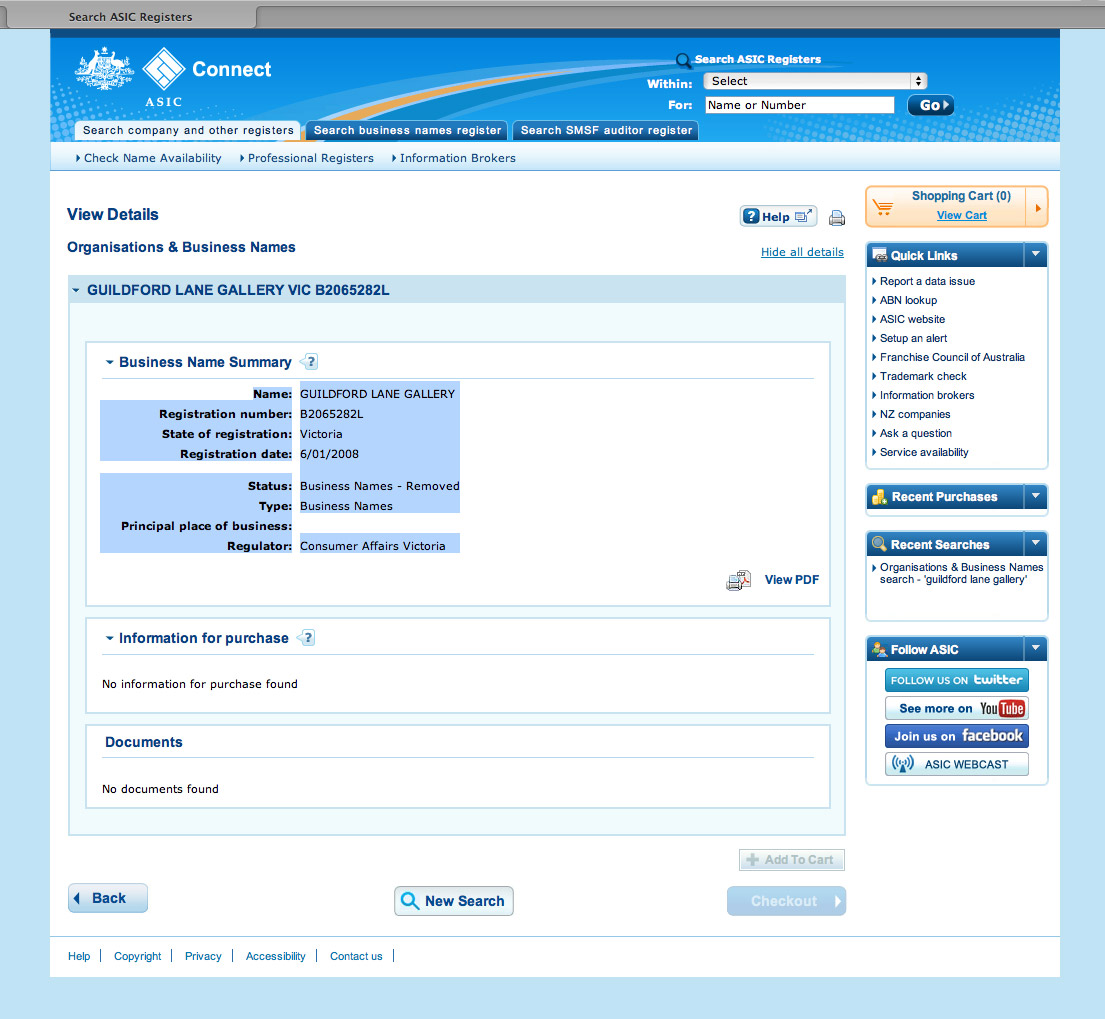 And after registering his for-profit business with ASIC, Cripps registered the web domain of this business as an "ORG" - which is reserved for not-for-profit organisations in the second week of 2008. The details of Cripps doing so are available on Whois, below: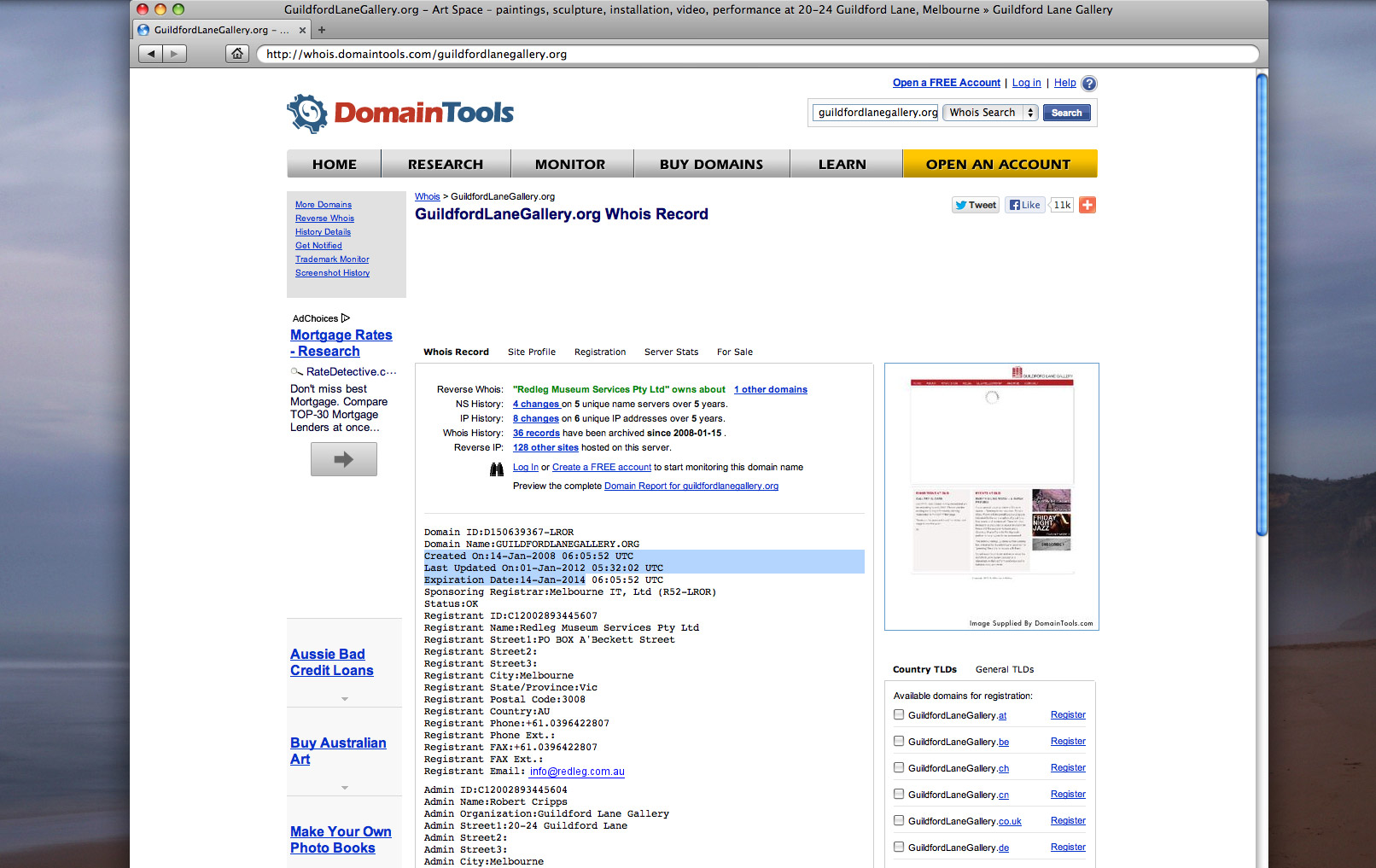 The suffix "ORG", to repeat, is reserved for not-for-profit organisations which Cripps' GLG was not. Below Melbourne IT define the uses of the "ORG" suffix: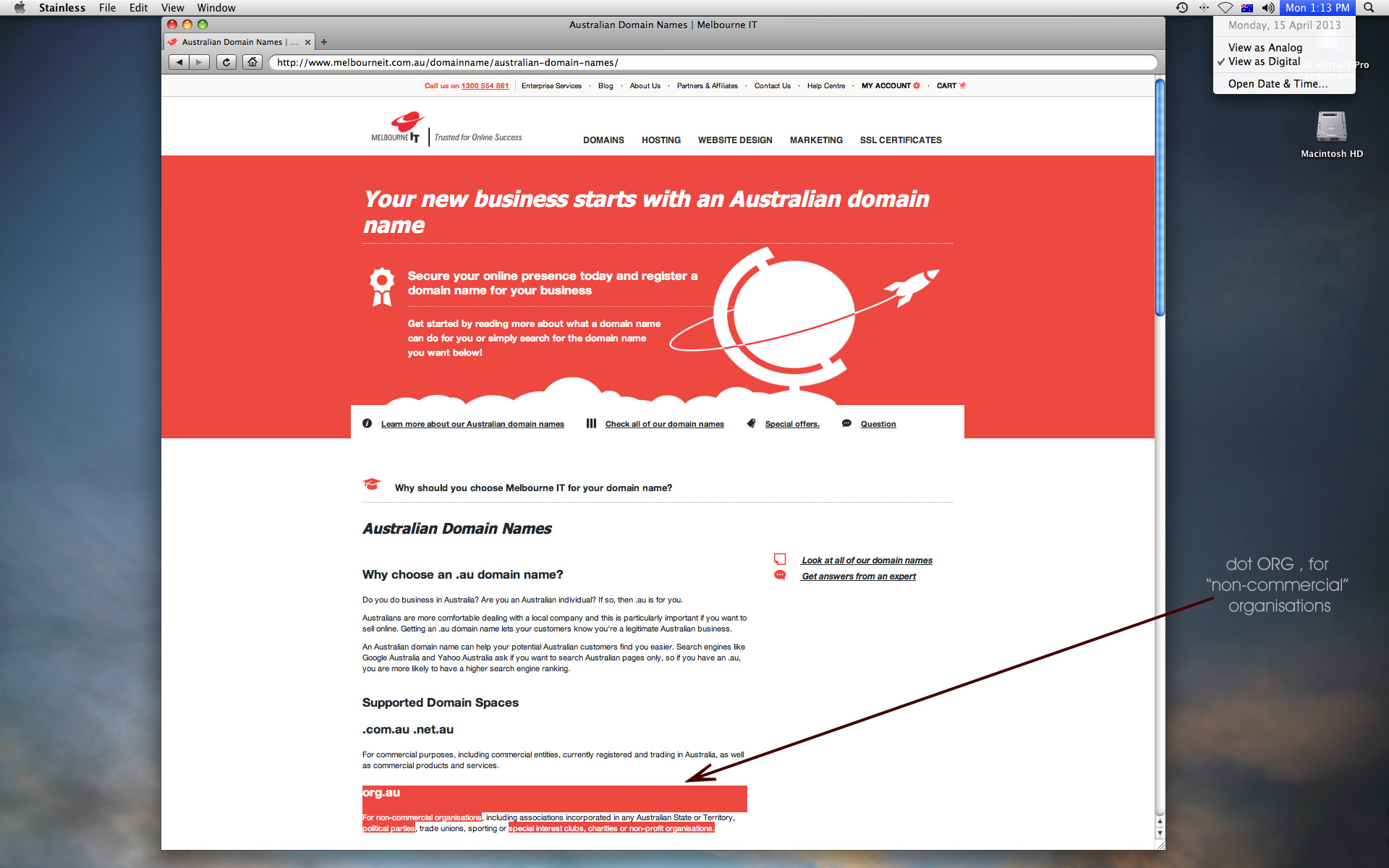 It is understood internationally that the use of the suffix "ORG" by any for-profit entity is a misuse of that suffix and that such use of it is misleading, or is intended to mislead. A deliberate deception that results in financial gain is a FRAUD, below: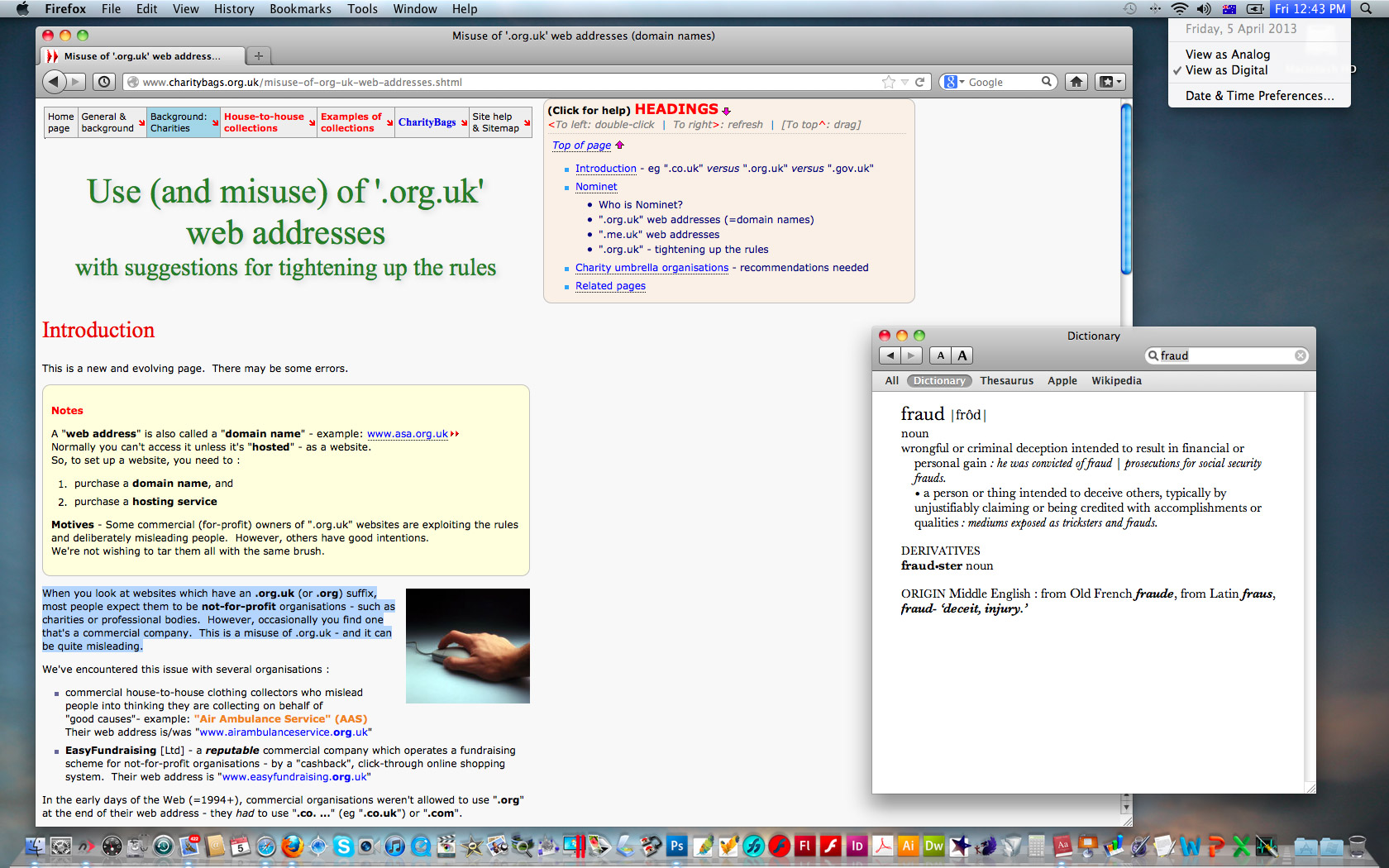 It is not as if "guildfordlanegallery.com" was unavailable - it continued to be available until it was registered in 2010. This was a deliberate and calculated decision.

VOLUNTEERS

This brings us to "Volunteers", the major selling point for Cripps' gallery.

Cripps called for volunteers on art sites such as Artabase, below.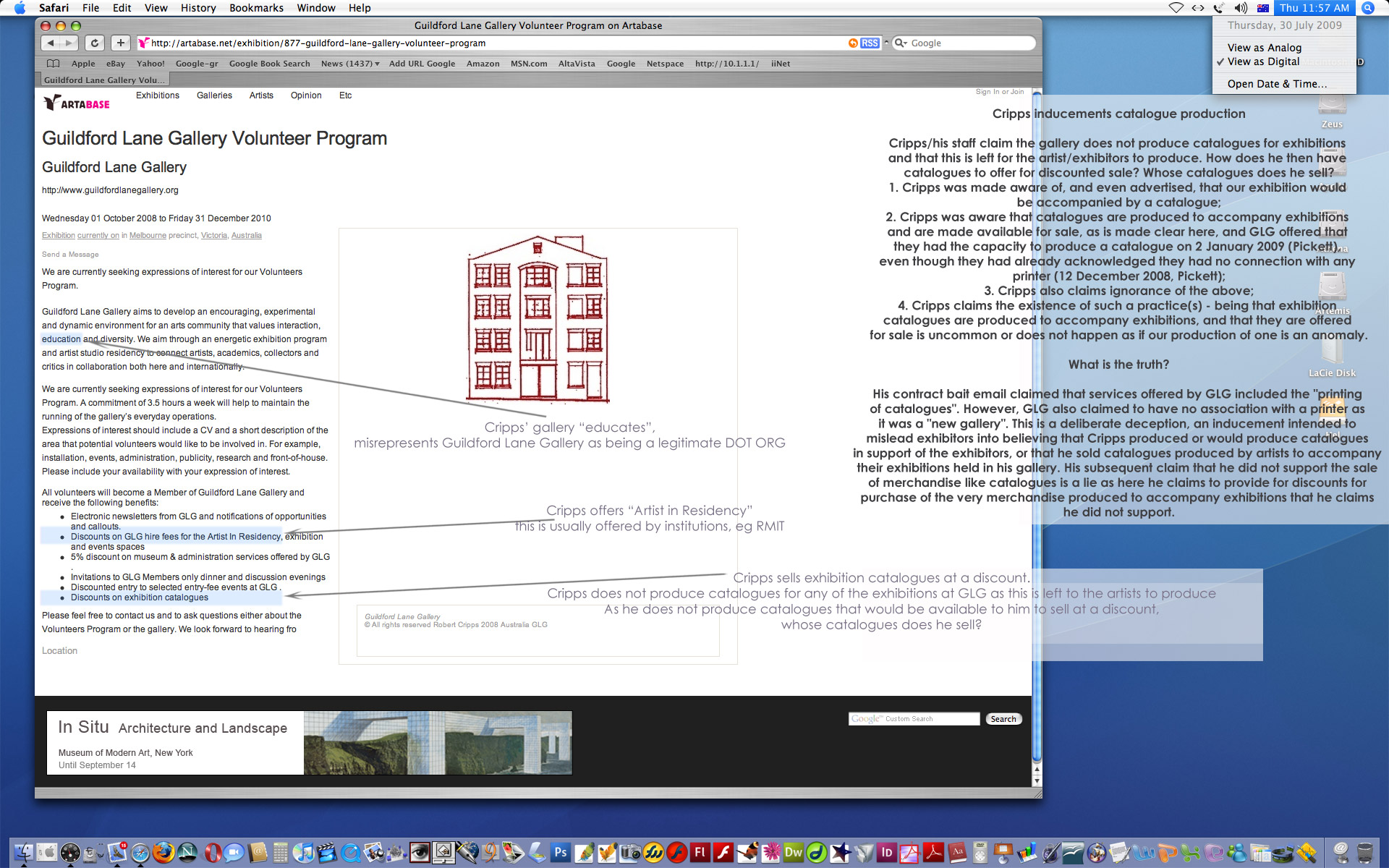 Cripps advertised the role of volunteers as being for the purpose of "education", for the "arts community", and for "academics". At face-value this might appear consistent with the definition of volunteers as it exists in the various legal definitions (such as s.34, s.35 & s.36 of the Wrongs Act 1958). However, volunteering is for a community benefit and this definition does not include volunteering for the financial benefit of the business operator for whom the volunteer has volunteered. Just because Cripps claimed his gallery was "educational" or for the benefit of the "arts community" does not make it so merely on his saying that it is.

Cripps called for volunteers on Facebook, below.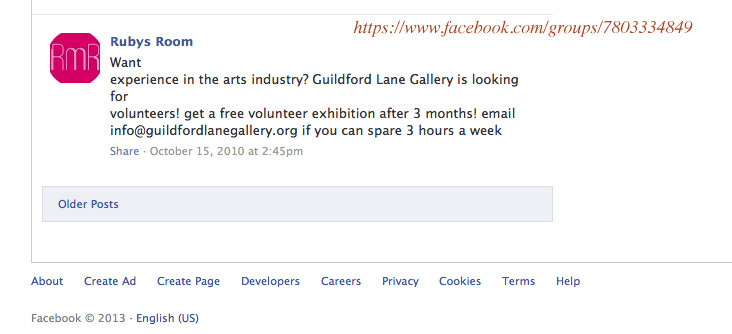 (Note: "Ruby's Room", above, was a section of the floor-space of GLG that Cripps had named after his dog. He has since replaced the logo for "Ruby's Room" with the one he now uses for his new venture "Ruby's Music Room", also named after the same dog.)
Cripps' gallery boasted of its "incredible team of volunteers", who provide the kind of support normally absent to artists who exhibit their works in galleries that exhibit art for the purpose of selling it, below.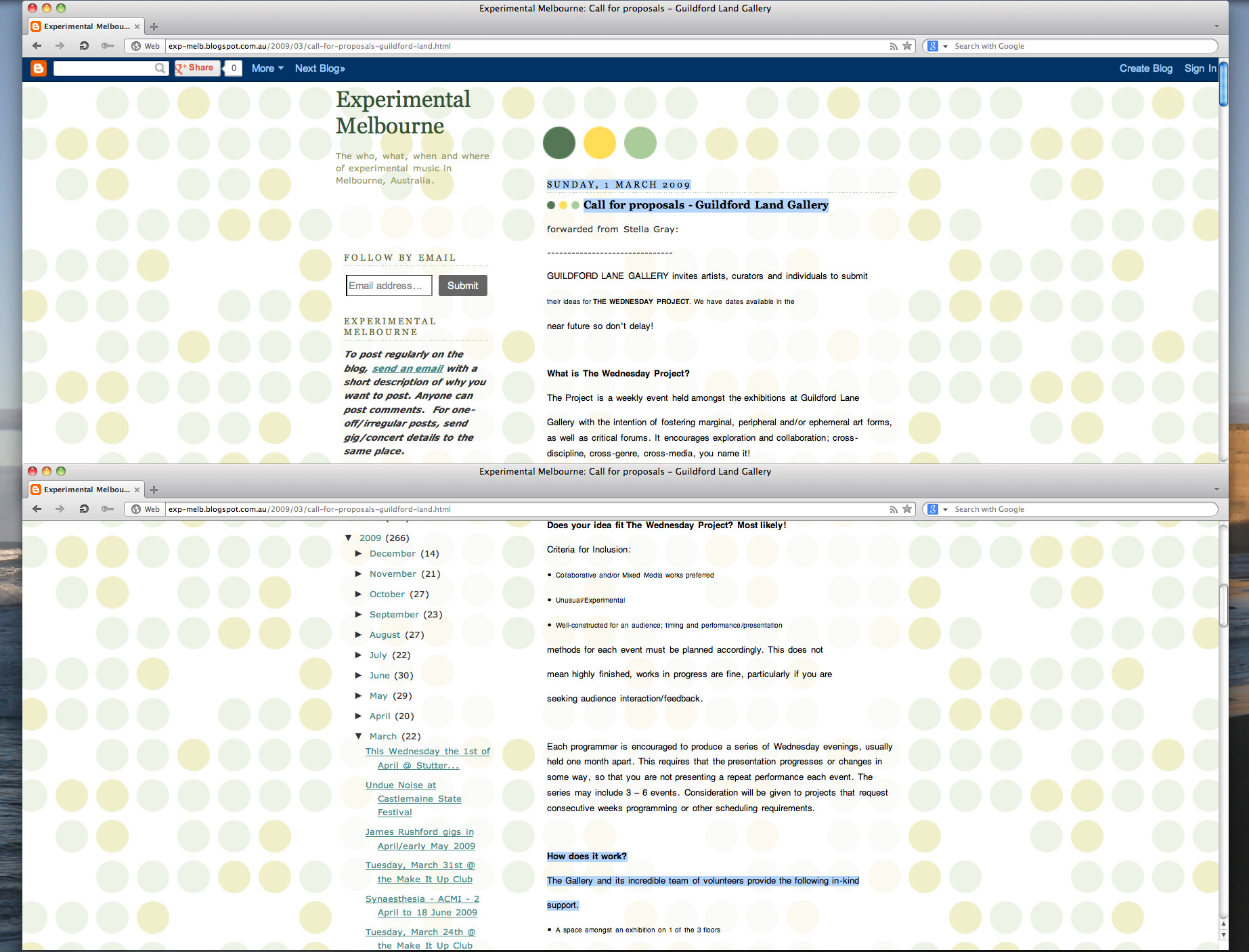 Not-for-profit organisations such as the ACCA who exhibit the works of artists such as Peter Cripps, Robert Cripps' brother, legitimately call for volunteers, below.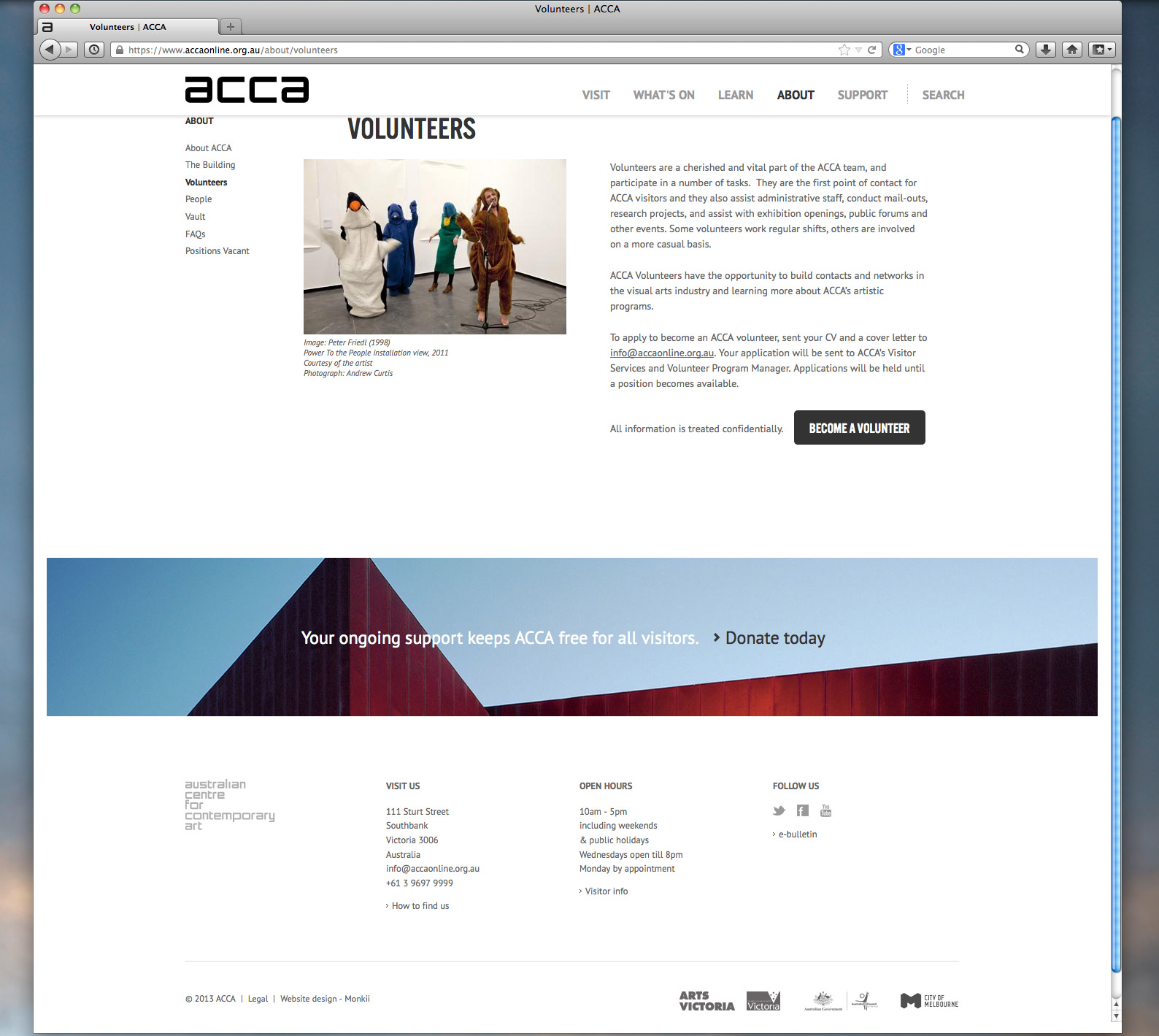 Volunteering is described by Volunteering Australia as an activity for not-for-profit organisations, below: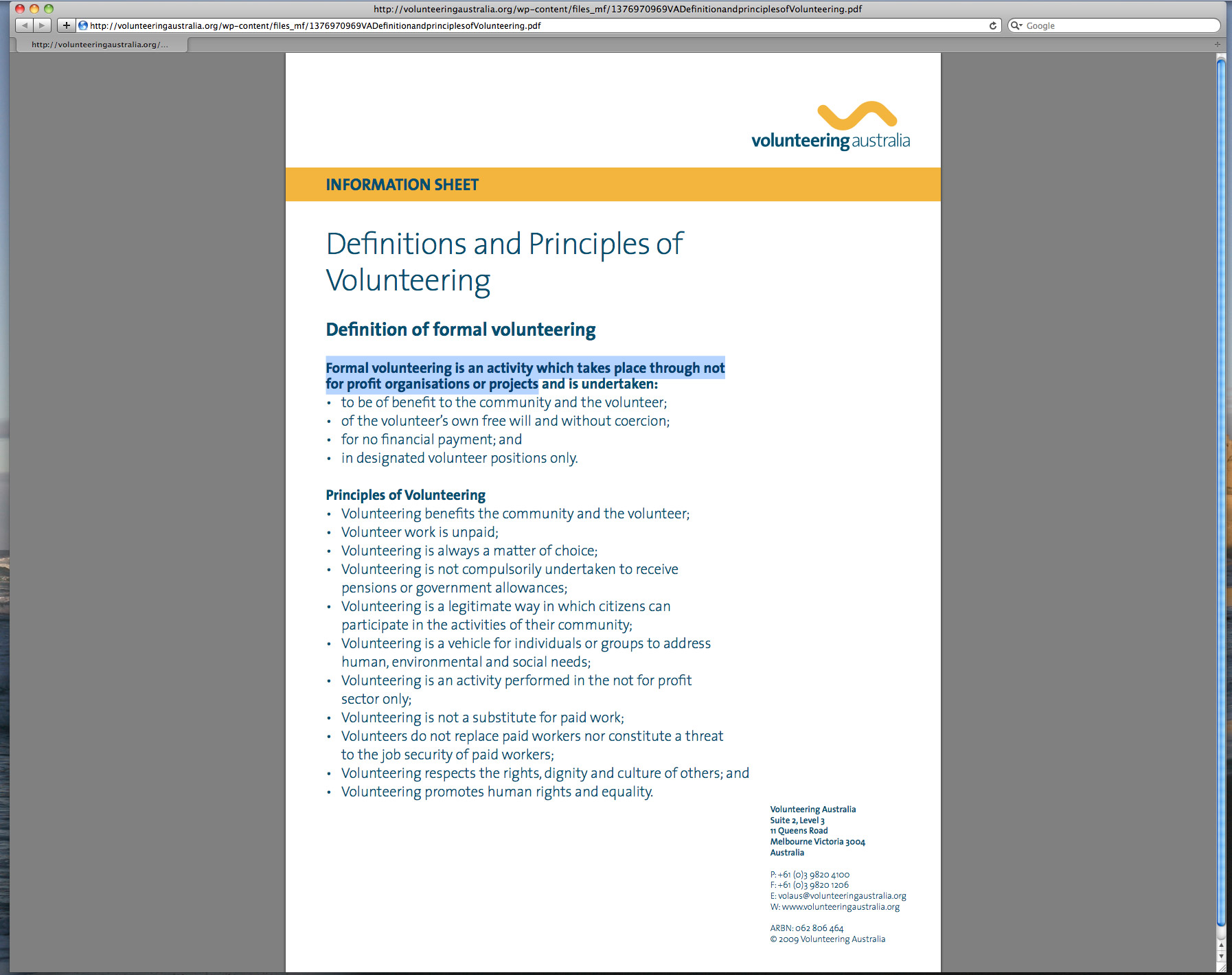 And from Volunteering Victoria, "Volunteering doesn't mean working for free in a private business or company – in many circumstances that can be illegal.", below.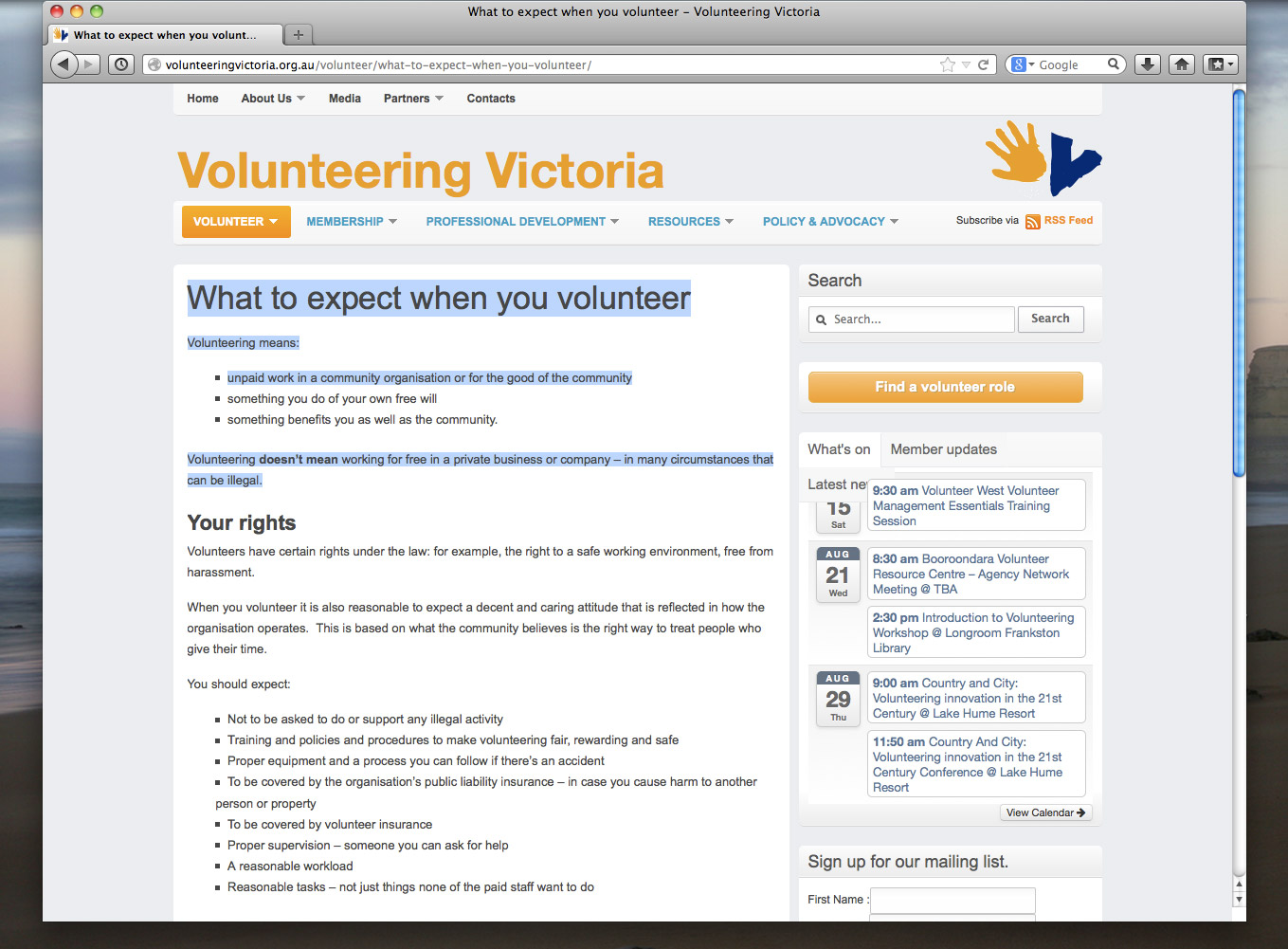 A search on Google for "volunteer work at gallery" brings up only educational, federal, state and local government organisations. There are no for-profit organisations such as Cripps' GLG: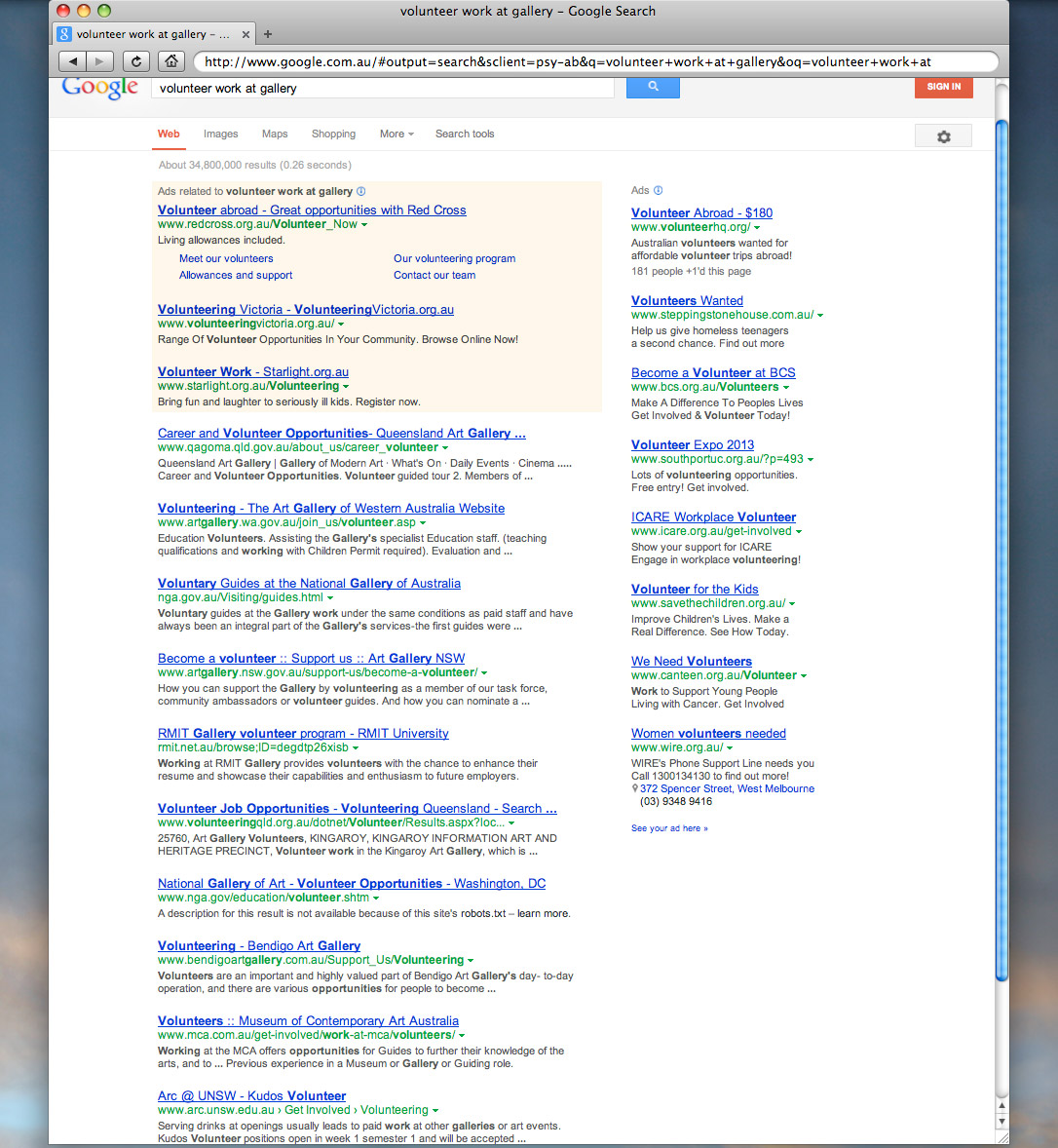 WHAT IS A VOLUNTEER?

There is a strict legal definition of VOLUNTEER in the state's law-books in Sections (34) 35 and 36 of the "Wrongs Act 1958":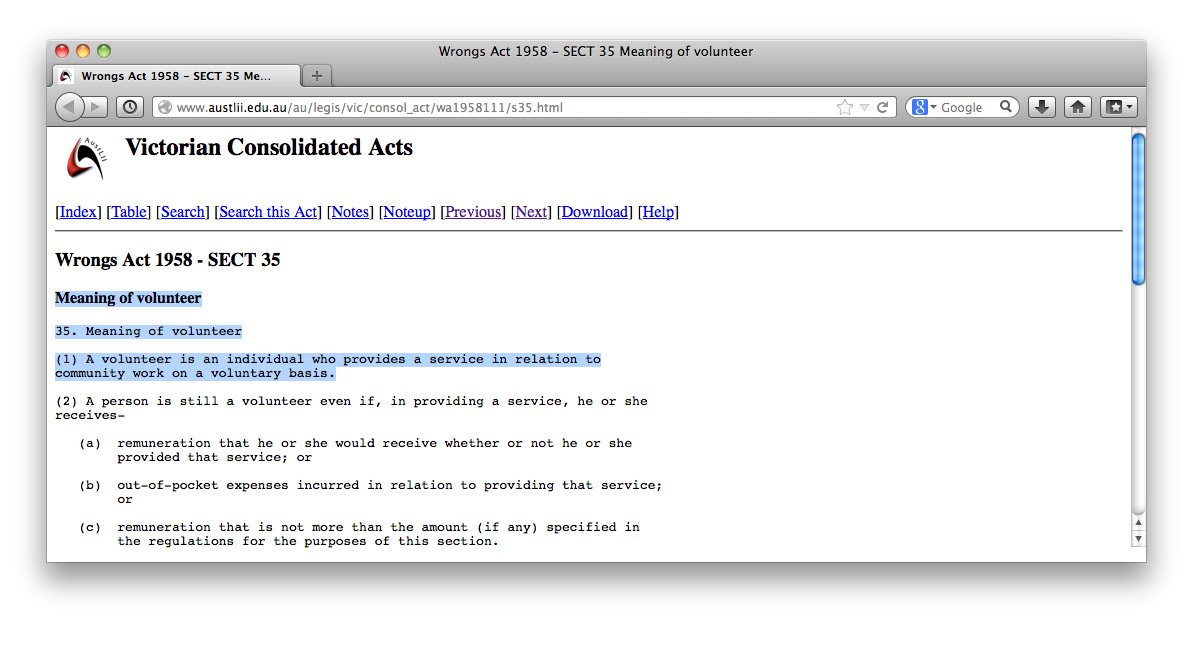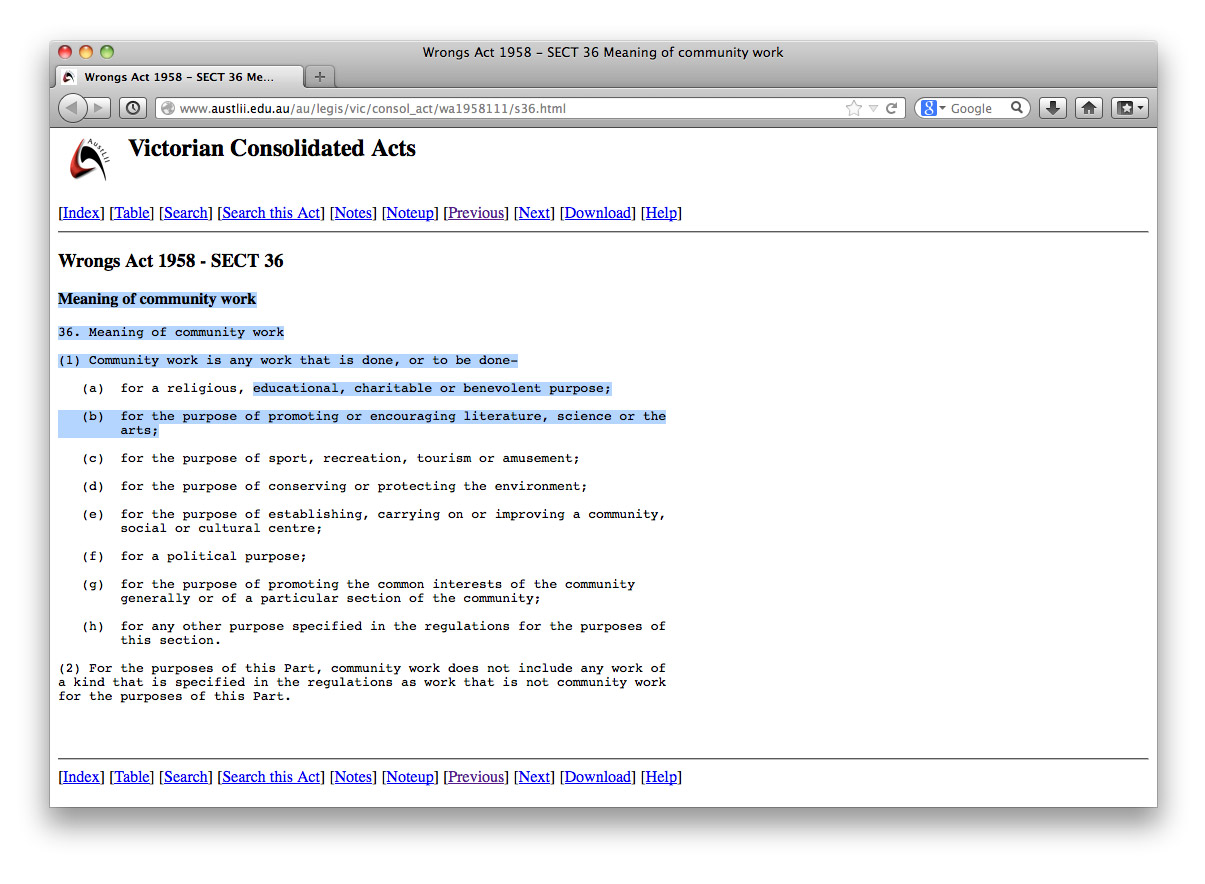 "Wrongs Act 1958 - SECT 35
Meaning of volunteer

35. Meaning of volunteer

(1) A volunteer is an individual who provides a service in relation to
community work on a voluntary basis.

Wrongs Act 1958 - SECT 36
Meaning of community work

36. Meaning of community work

(1) Community work is any work that is done, or to be done-

educational, charitable or benevolent purpose;

(b) for the purpose of promoting or encouraging literature, science or the
arts;"

A "community purpose" does not mean for the profit of Cripps!
The government website providing advice for the not-for-profit sector define volunteers as being specific only to the not-for-profit sector. Volunteering is not for private companies like Cripps' GLG, below: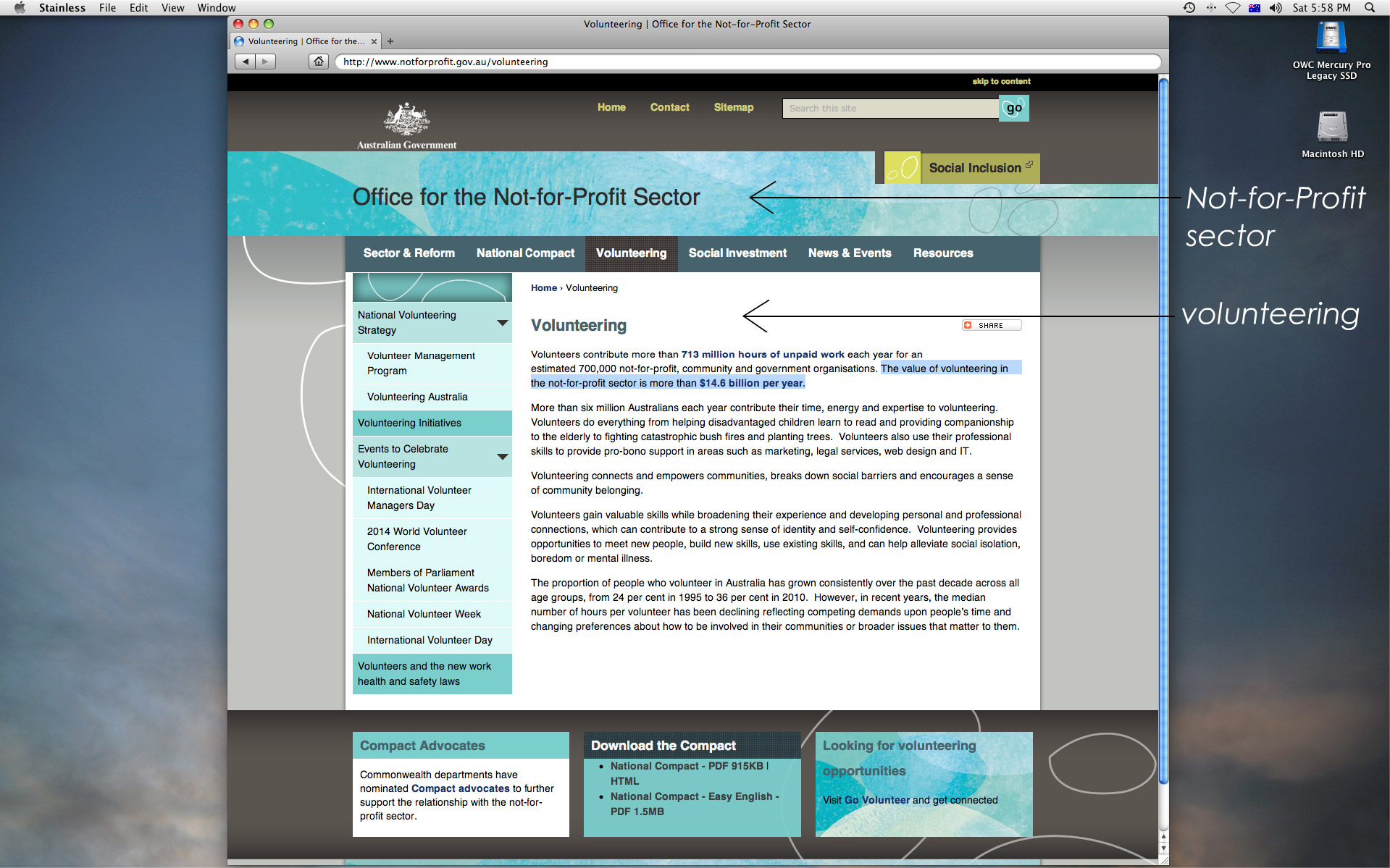 The Australian Taxation Office, ATO, defines what kind of not-for-profit organisations qualify for volunteers. A for-profit gallery such as Cripps' GLG does not qualify as it does not fit any of the definitions. Cripps' GLG was not a school, or a church, or a "cultural society", or a "public museum", etc., below: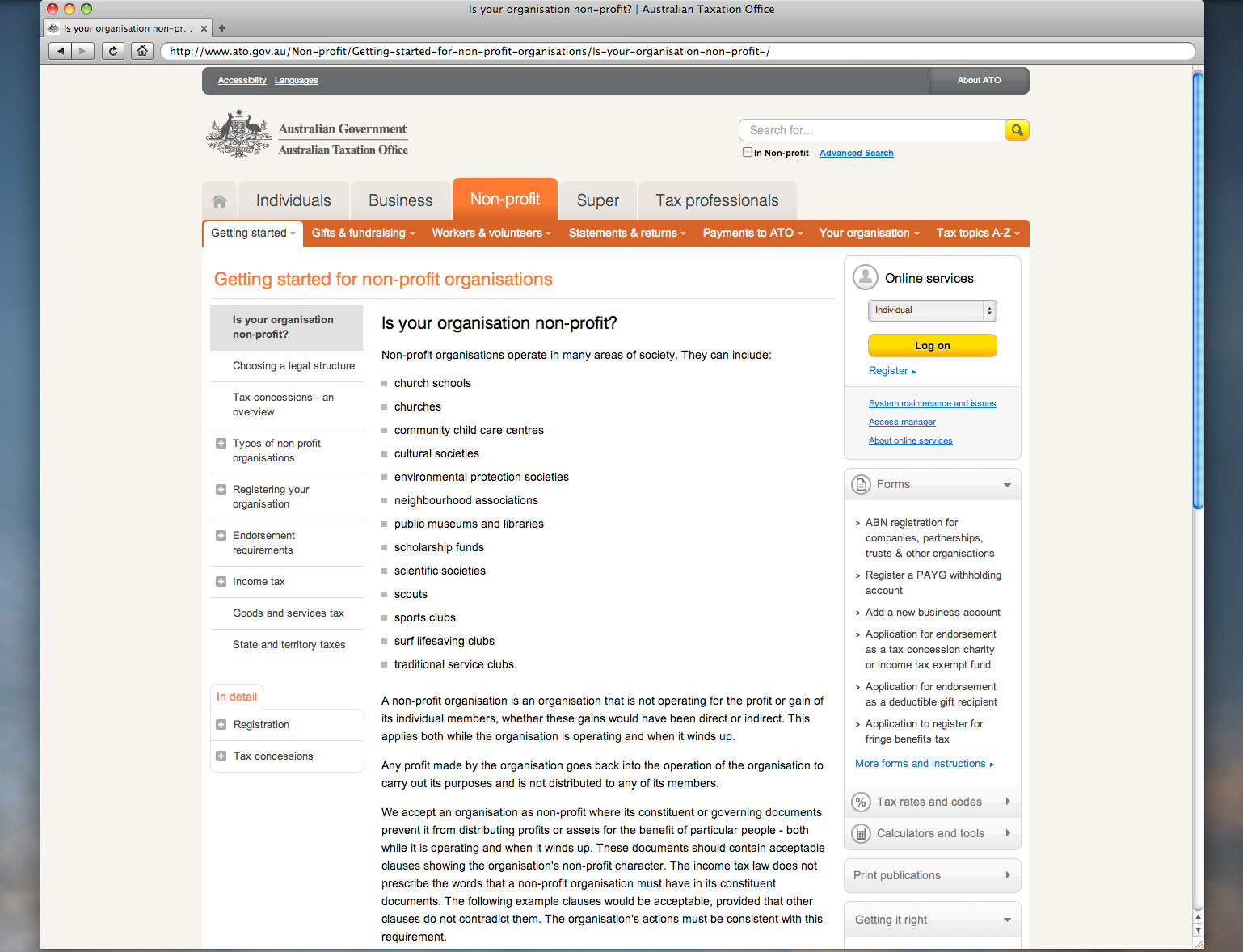 FAIRWORK Australia has recently released a report on the abuse by the for-profit sector of the concept of volunteering. Cripps' "volunteers" by law should have been paid-for employees, below:


And, the recent Fair Work Ombudsman characterises for-profit companies' use of volunteers and "internships" as "exploitation", below: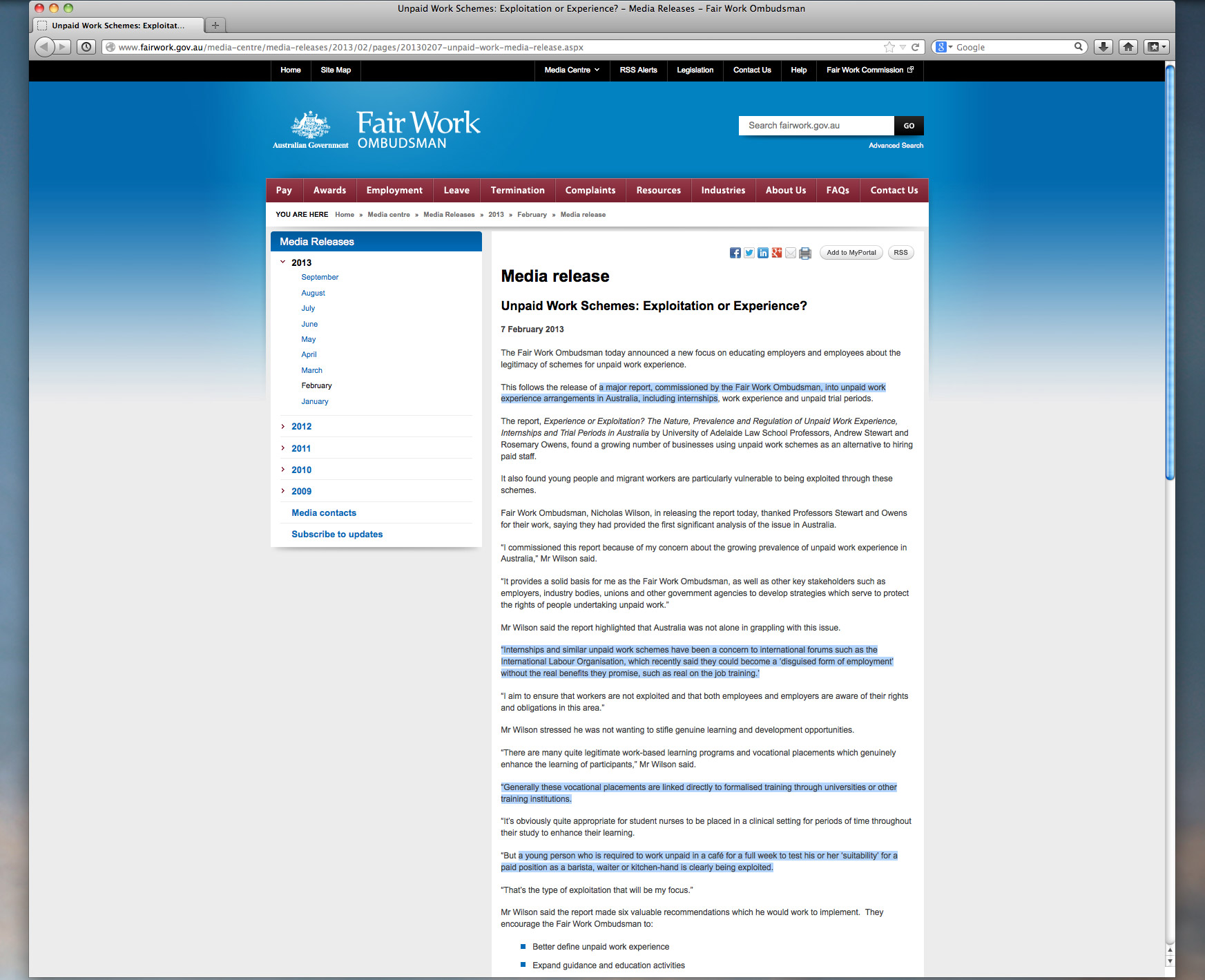 CRIPPS' USE OF VOLUNTEERS WAS UNLAWFUL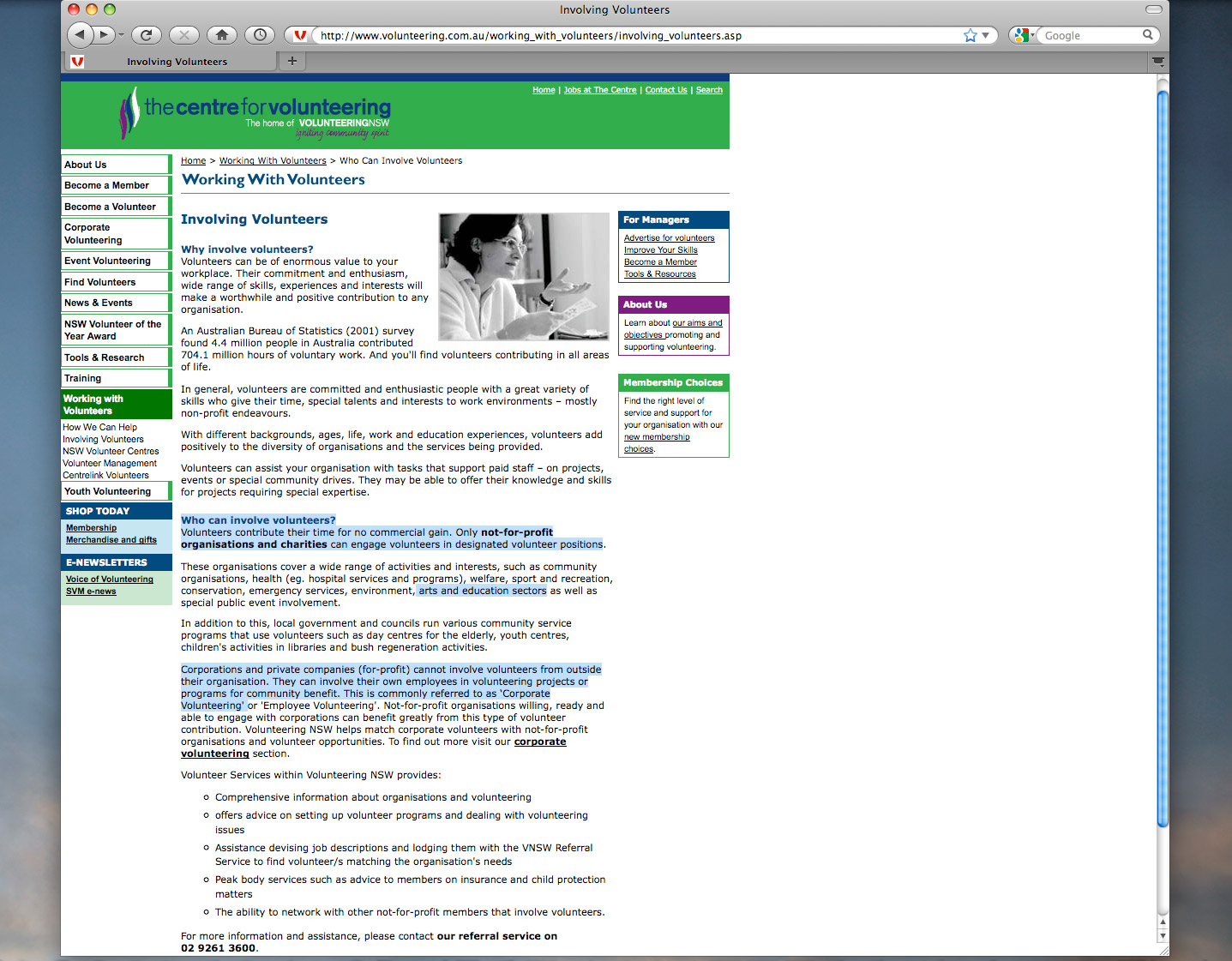 "Who can involve volunteers?
Volunteers contribute their time for no commercial gain. Only not-for-profit organisations and charities can engage volunteers in designated volunteer positions.These organisations cover a wide range of activities and interests, such as community organisations... arts and education sectors...Corporations and private companies (for-profit) cannot involve volunteers from outside their organisation. They can involve their own employees in volunteering projects or programs for community benefit. This is commonly referred to as 'Corporate Volunteering' or 'Employee Volunteering'."

(http://www.volunteering.com.au/working_with_volunteers/involving_volunteers.asp)"
For an artist, volunteers indicated that the gallery or institution in question fulfilled some sort of genuine requirement that allowed the gallery in question to legitimately call for volunteers. This turned out to be a misrepresentation. It was a deception. The deception worked for the purposes Cripps intended which was to procure artists by making inducements based on his having volunteers to fulfill what he promised.

This illegal model which calls for unpaid workers is still being used by Cripps at his Ruby's Music Room, below, as on 7 September 2013 (note: he pulled his entire site some time on 8 or 9 September 2013):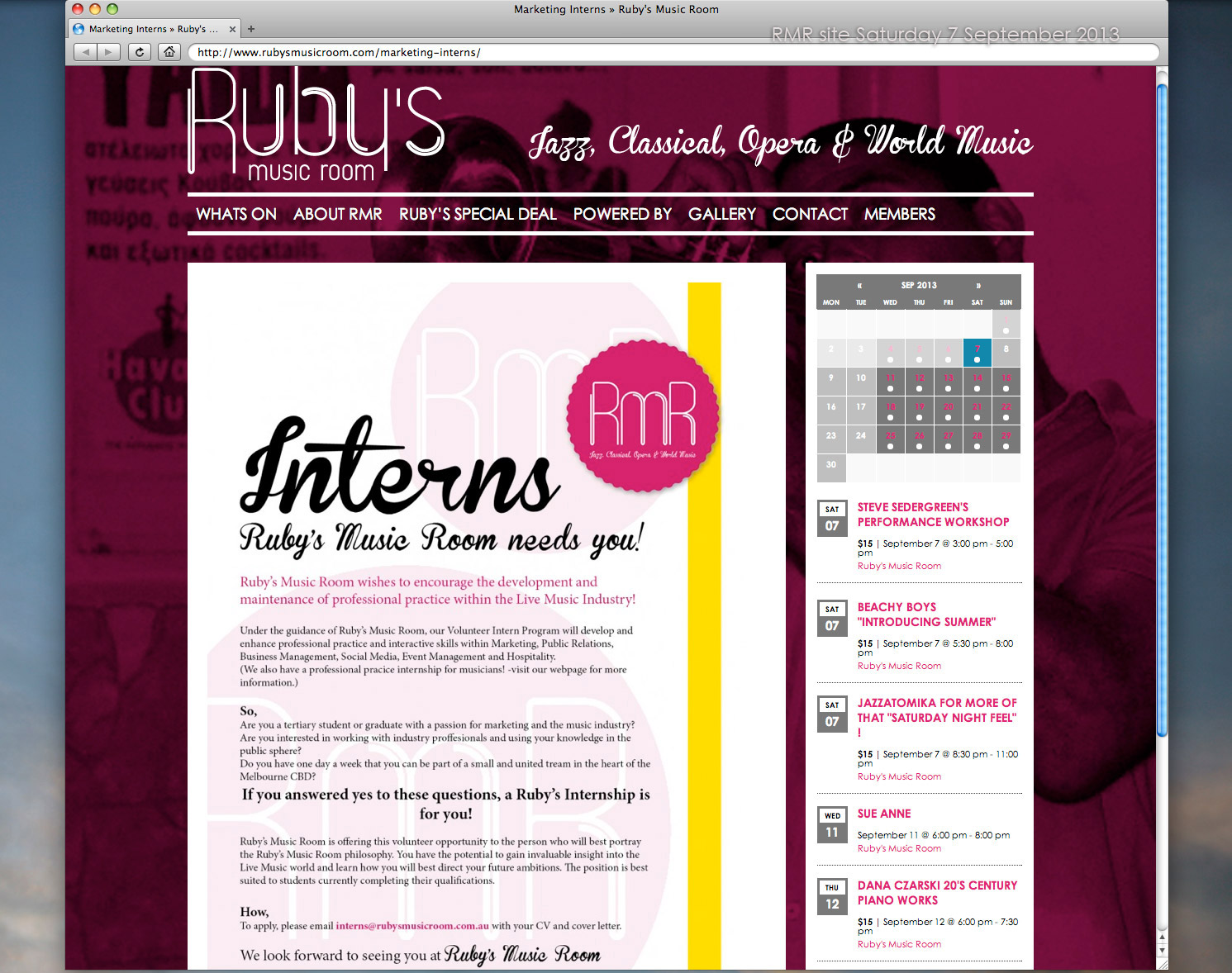 Below, Cripps pulled his site that called for volunteers and interns on either 8/9/2013, or 9/9/2013.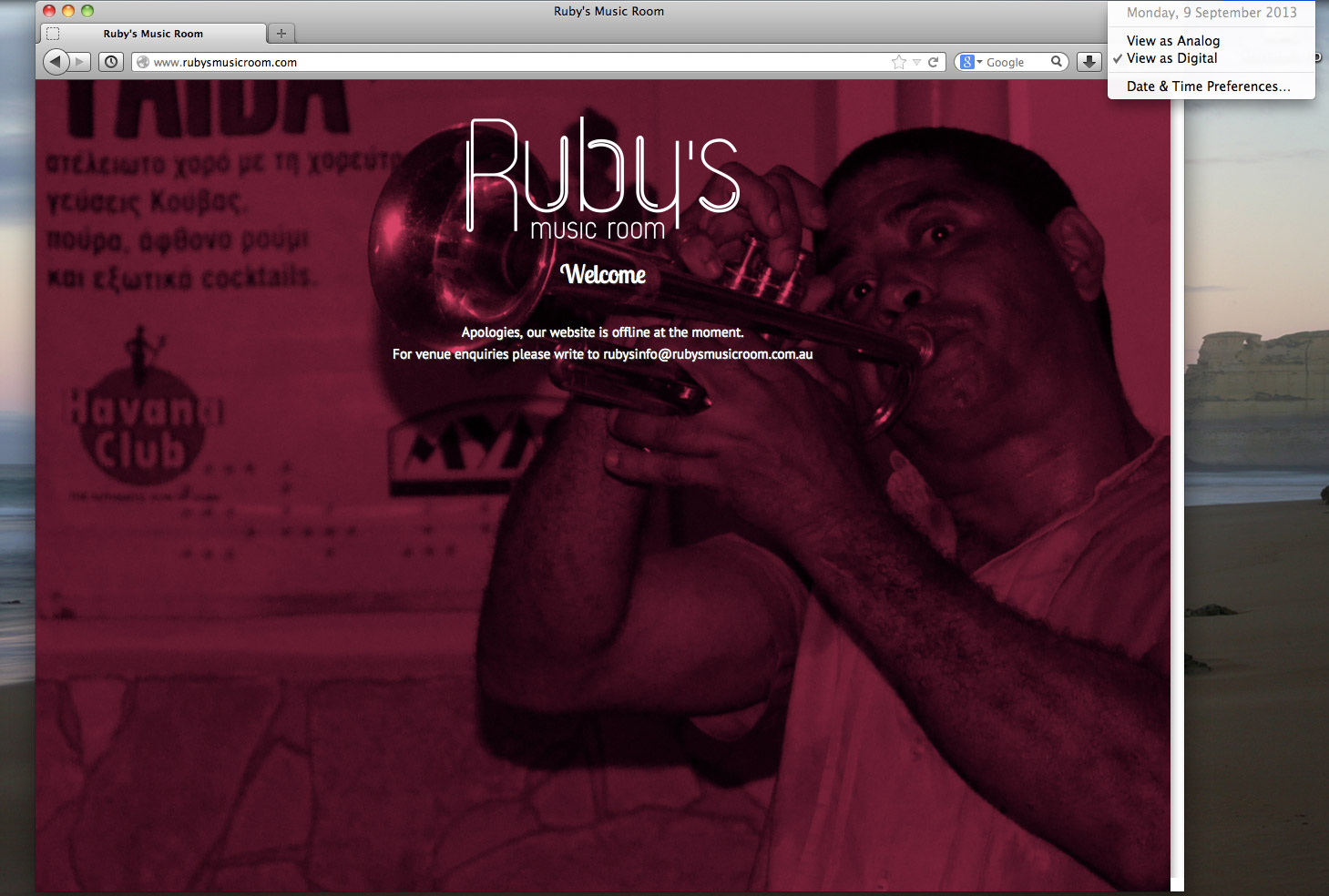 In order to mislead us Cripps had to undertake several measures. Each on its own might appear inconsequential. However, this was an elaborately constructed and deliberate deception. And, after misleading us into signing an agreement with him Cripps then used a number of strategies that are also unlawful in the CCA 2010 (formerly the TPA 1974). His conduct was unconscionable (he was a bully) and he demanded we fulfill obligations that were not in the contract or he would not fulfill what he had agreed to. And on our making this known, he is suing us to keep it from becoming known and make a profit for his having acted this way.

The deception by Cripps was very effective. Others, not merely ourselves, were misled by his practices, and assumed on account of his deliberate deceptions, that he was acting for the arts community, below.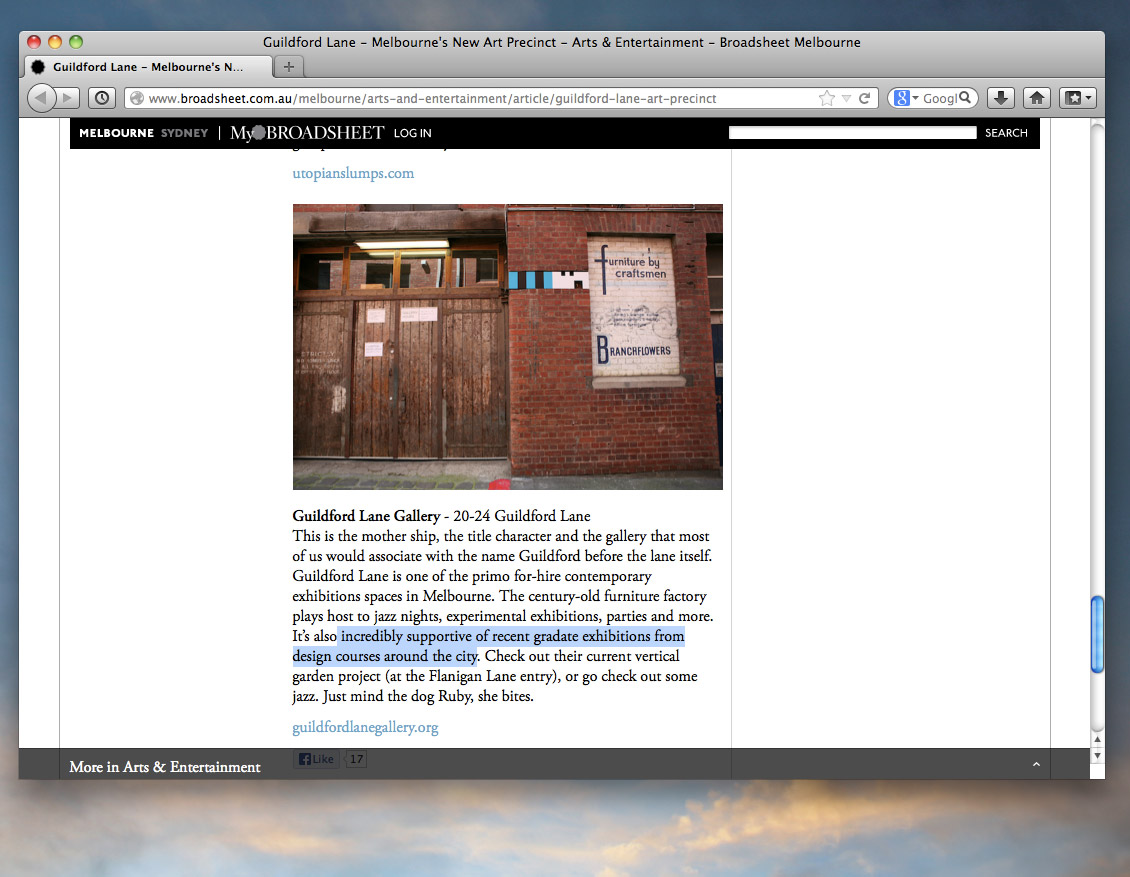 And the large number of exhibitions held at GLG that were tied to RMIT, helped cement the false representation of Cripps supporting up-and-coming artists, and that he had some official connection to an institution like RMIT, below.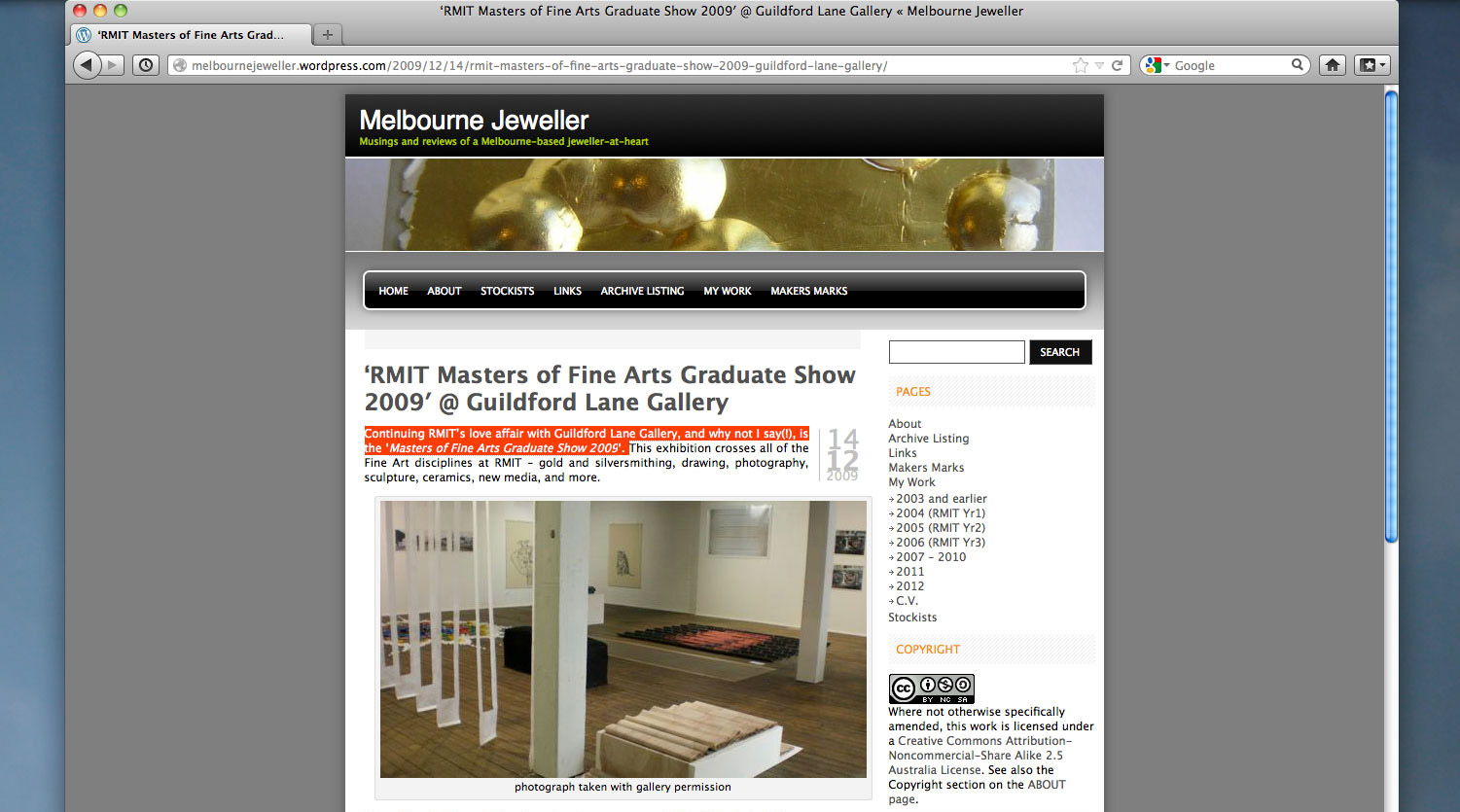 Cripps successfully manufactured a carefully designed and executed deception based upon deceptive marketing which was not based on Cripps' actual actions or reputation. He is suing us to prevent it being known that his reputation is different than what he is marketing.
Author: Demetrios Vakras 17 September 2013 (edited 21/9/2013 to add GLG times as advertised on NAVA )

We are petitioning the Australian government to amend the Defamation Act of 2005 to make Australian law consistent with its international obligations.

Support our petition here:http://www.change.org/en-AU/petitions/the-hon-mark-dreyfus-qc-mp-amend-the-australian-defamation-act-2005