~ webiste in progress ~
REDLEG
: Robert Raymond Cripps ran "Guildford Lane Gallery" (2008-2011).
Guildford Lane Gallery
was the trading name of "Redleg Museum Services P/L" 
(ACN 105 986 829).

About Robert Cripps,

"Redleg":



In July-September 2015 Cripps/Redleg was ordered to return to us money totaling (nearly) $300 thousand (AUD).


Instead Cripps/Redleg held onto the money for a year, and in April 2016 Cripps, the sole director, secretary, and shareholder of his business, packed his business assets (which included a Steinway piano), put them into hiding, and subsequent to doing so, declared himself "bankrupt" in July 2016 (Annex 10 Geneva Petition ).
ARTISTS: Demetrios Vakras ,  Lee-Anne Raymond
exhibited their art at Redleg's for-hire "gallery" in 2009.
Introduction

Both artists, Demetrios Vakras and Lee-Anne Raymond, were sued by "Redleg" (Cripps) in the SCV (Supreme Court of Victoria) because they wrote on their websites of the actions Redleg/Cripps took against their art (and hence their character) while it was on exhibition in the gallery during June-July 2009. Redleg (Cripps) sued because he claimed what he did to the artists (ourselves), that damaged our honour and reputation would make Redleg look bad, and injured his reputation by us making it known.
In court (the SCV) Redleg (Cripps) proclaimed that Vakras (who is of Greek descent) had used Greek words written in "another script" (Greek) and that as Vakras refused to re-write the Greek material in "simple English" (even though the Greek words were already translated), that he, Cripps, was left with no other option than to exhibit our art in a manner prejudicial to our reputation by placing multiple disclaimers throughout the exhibition space and placing a very large "WARNING!" outside the exhibition to "forewarn" and dissuade prospective gallery visitors about the exhibition material that judge, Kyrou who adjudicated the defamation trial, declared was "potentially offensive".
The reasons given by Redleg (Cripps) to to the court (SCV) for doing what he did breach Australia's Race Discrimination Act (RDA) which is based on Article 1 of the ICERD, (codified in Sections 9, 13 and 18 of the RDA). During the trial Redleg's counsel (lawyer), Christopher Dibb, excoriated Vakras because he did not share the ancestry of "most people" who "are not Greek" which, by law, should have counted against Redleg (per the Evidence Act, Section 87).
The court (Kyrou) ruled that Redleg's actions (ie, to racially discriminate) were not prohibited by the "contract" (Hire Agreement); that there was no "moral" requirement for Cripps/Redleg to observe anything other than what was written into the "contract"; and that Vakras and Raymond had made Cripps look bad by writing about what Redleg did to them, even though what Redleg/Cripps did is in violation of rights available under law to both artists. According to Kyrou, there was nothing to prohibit Redelg/Cripps from discriminating against Vakras on racial grounds because Vakras had used "foreign words"; and that both artists had no right to expect that their reputation would not be attacked by Redleg because race discrimination and reputation were not mentioned in the "contract". Contradictorily however, Kyrou declared that Cripps' reputation was protected (by the Defamation Act) even though this was not written into the same "contract".

"The matter" has gone before the Supreme Court of Victoria, the Victorian Supreme Court of Appeal, the (Australian) Human Rights Commission, the Federal Circuit Court of Australia, the Federal Court of Australia, and finally the High Court of Australia, in which judges Keane, Edelman, and Nettle, ruled to void the Race Discrimination Act (ss 9, 13 and 18) and remove the defamation protection (per its definition under moral rights) per the Kyrou finding.
"The matter" has been submitted by us to Geneva as a human rights violation of both artists by Australia in breach of the ICCPR (ICESCR and ICERD) due to the actions against them by the Australian State representatives, being the judges, book-ended by David Beach of the SCV and Geoffrey Nettle of the High Court.

The actions by Cripps/his gallery, "Redleg", attacking our honour and reputation can be found at:
Vakras: http://vakras.com/guildford_lane_gallery.html

Raymond: http://leeanneart.com/guildfordlanegallery.html

Summary of Petition against Australia in Geneva

This page is being re-edited after a two year hiatus (from July 2015 to August 2017) in light of our (Lee-Anne Raymond's and Demetrios Vakras') Geneva Petition against Australia (its judiciary) for its violation of our human rights.

Our petition to Geneva is posted here on RedlegVartists:
Vakras_Raymond_ICCPR_Geneva_ComplaintForm-against_HCA-FCA-FCCA-SCV-VSCA-july2017-redact.pdf
Summary of the Petition to Geneva:
- Australia, as signatory to the ICCPR, ICESCR, ICERD (and the Berne Convention), is mandated under domestic law to protect us from an attack to our reputation of the kind made against us by Cripps/Redleg which was done because we had exercised our right to express our (atheist) ideas in our surrealist art exhibition which is also protected. Further, in light of the attack on us because we had expressed our ideas, we have a right to both object to, and protect ourselves from damage done, by an attack made on our reputation without our defending ourselves being claimed to instead defame our attacker (Redleg).
- (Marylin) Warren, Ashley and Digby (Victorian judges) – whose ruling of July/September 2015 was affirmed by the High Court of Australia (judges Keane and Edelman) on 6 April 2017 – ruled that we cannot be permitted this right to exercise. Warren, Ashley and Digby claimed that as any attack on our reputation by actions done (as were done to us by Cripps/Redleg) were actions known to have been done by the party who did them (Cripps/Redleg), that to write about them would instead damage the reputation of the doer of those actions (defame the doer of the act) - removing from us and every other Australian artist and author a protection legislated into Australian law (under Moral Rights).

- the ICCPR, to which Australia is signatory, gives us the right to seek remedy against an officer acting in their official capacity. Chiefly, we seek remedy against Emilios Kyrou, judge of the Supreme Court of Victoria who acted illegally by introducing his own falsities without which he could not have made the adverse ruling against us (partially reversed on appeal). Judges cannot invent (fabricate) the "evidence" that they require in order to make the ruling they seek to make. Our objection extends to the Victorian Appeal Court judges and the High Court of Australia who failed their duty under law. We point to Clause 5 of the Australian Constitution which binds the Australian judiciary to abide by laws made by Parliament, and that there is no law in existence that permits the actions of Kyrou, or that grants the superior courts any discretion to dispense with Clause 5.

- further, per the Vienna Convention on the Law of Treaties (Articles 26 and 27) Australia cannot shirk its responsibilities under the beforementioned covenants it is signatory to. To be clear, Australia cannot misuse Common Law to claim that it is unable to fulfill obligations it has signed up to, and cannot misuse Common Law to prosecute us for "Scandlization" because we are petitioning Geneva for the purposes of compelling Australia (the judiciary and courts) to do what they should do according to law. Our right extends to open and impartial justice.

- We emphasise, we are not merely asserting rights simply because Australia is signatory to International Covenants, but that Australia has made these rights available to us in the country's domestic law code, which means that under Clause 5 of the Constitution all Australian Courts and judges are bound by these laws protecting our rights, and that the judiciary have acted unlawfully in denying us our rights.

- Our right to object to, and protect ourselves from, damage done by the kinds of acts done by Redleg/Cripps arise under Article 15 1 (c) of the ICESCR (and 6bis Berne Convention). This right has been made into domestic law under s 195 AK of "Part IX" the "Moral Rights" Amendment to the Copyright Act, and it is not lawful to any Australian court to remove from us our rights given us by Parliament:
COPYRIGHT ACT 1968 - SECT 195AK

, Derogatory treatment of artistic work                    In this Part:

"derogatory treatment " , in relation to an artistic work, means:...

                     b)  an exhibition in public of the work that is prejudicial to the author's honour or reputation because of the manner or place in which the exhibition occurs; or

                     (c)  the doing of anything else in relation to the work that is prejudicial to the author's honour or reputation.
---
About the exhibition "Humanist Transhumanist" held in 2009
 

Humanist Transhumanist (Front cover)

 
Humanist Transhumanist (Back cover)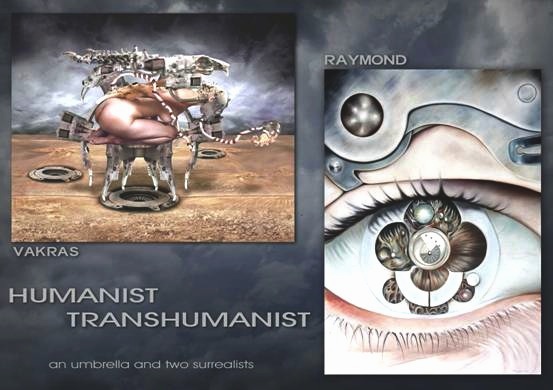 Humanist Transhumanist - Exhibition invite card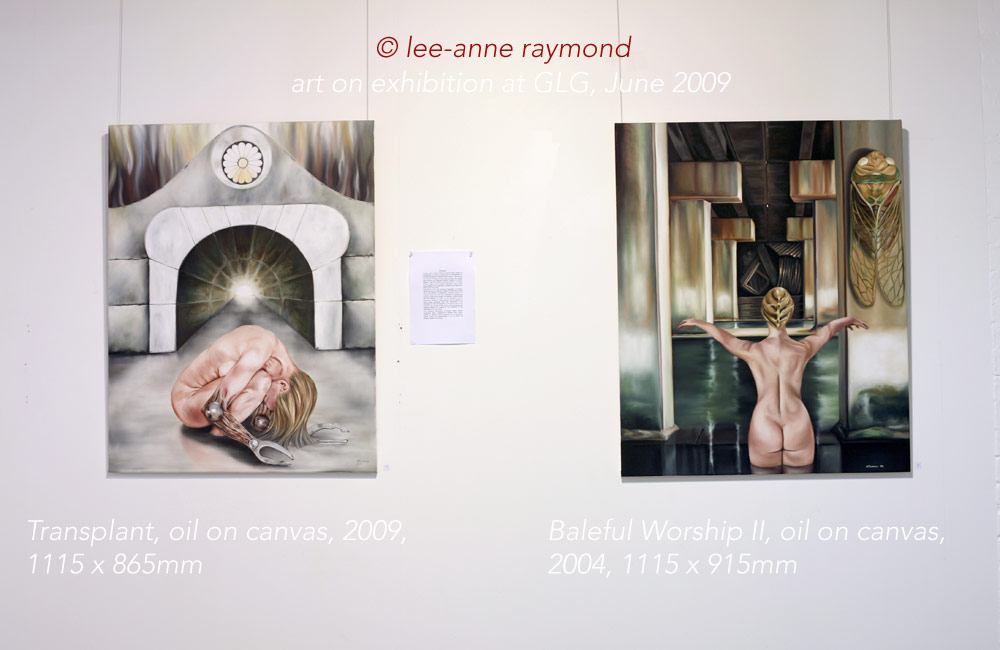 Humanist Transhumanist - paintings in situ during the exhibition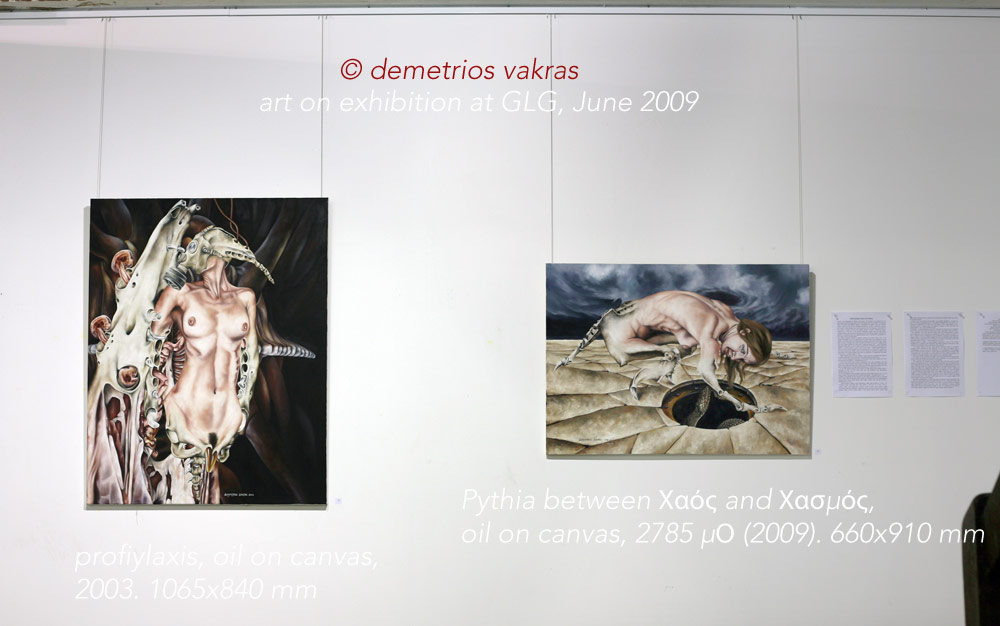 Humanist Transhumanist - paintings in situ during the exhibition
Our works were hung in the gallery with explanatory essays from the publication "Humanist Transhumanist" (HumanistTranshumanist.com) pinned alongside the relevant paintings.
*  We had advertised our exhibition that was to be held in Redleg's gallery in print ( the Art Almanac ) and promoted it extensively on the internet (one example of our online posting on the City of Melbourne website, below), as too had Redelg (refer Artabase who still host Redleg's online posting of our exhibition).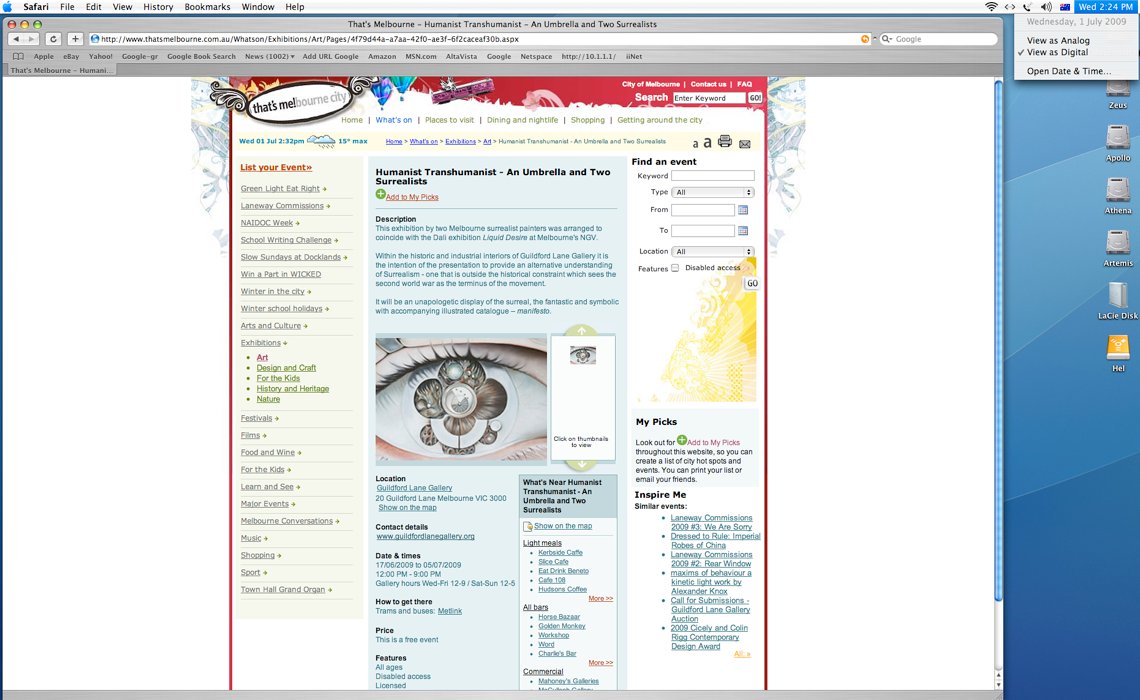 Humanist Transhumanist - advertised on the Melbourne City Council website on 1 July 2009
*  Cripps declared he "could not understand the paintings" [confirmed in the court Transcripts]. He further declared ignorance of art. On the strength of his professed ignorance of art and in particular to his ignorance of the nature of surrealism, Cripps declared that our entire surrealist exhibition – critical of the religions of Judaism, Zoroastriansim, Christianity, Islam (and Hinduism) – was "racist", and for reasons that Cripps admitted he could not explain, that the exhibition was "anti-Palestinian". 
*  Cripps' opening night tirade against us was witnessed by a number of people, one of whom was Paul Carter of RMIT, (colleague of Cripps' brother, Peter, also at RMIT). The opening night tirade by Cripps was conveyed by Carter to artist Josie Waddelton (who was at the time unknown to us). And, after she experienced the "destruction" by Cripps of her own exhibition opening, she sought out the artists (us) whose experience Carter had previously imparted to her. When contacted by our solicitor Carter denied being at the gallery. The Australian judiciary permitted for us to be sued for defamation for writing about what Cripps did to us. Clearly the law extends to every other witness: Carter too was open to being sued by Cripps for defamation because he had spoken about what he had observed.

*  Being, as he has admitted, ignorant of art, what understanding Cripps had about our work was expressed by him in his questions to Raymond. As we hung the exhibition his questions to her (in full view of Vakras) were solely concerned with who modeled for the nudes in her work and whether it was she who had modeled for Vakras' work while expressing "I love the softness of the flesh". And during the opening of the exhibition, Cripps decided that he would enquire of female viewers if it was they who modeled, to the extent of asking at least one viewer if it was her "lovely bottom" in the painting she was viewing, diminishing the message and integrity of the exhibition.

*  Several days after the opening night Redleg posted multiple disclaimers throughout our exhibition dissociating Redleg from the ideas expressed in our art. This action proclaimed our art to be so thoroughly objectionable that it could only be exhibited to the public with the gallery expressing its unambiguous and categorical objection to our art and our ideas and posting a large "WARNING!" outside ( VCAT claim by us against Cripps ).

*  With his faux "racism" charge made against us as his pretext, Redleg essentially barred us entry to an exhibition we had already paid for in advance. For the period in which our work was presented to the public in Redleg's gallery, it was at the mercy of Cripps' vile interpretations of it, which he said had made necessary the disclaimers and "WARNING!".

Visitors drawn to the exhibition because of its extensive on-line promotion, arrived to see our art, our ideas, and our-selves (the Authors/artists), denigrated. Cripps told visitors that our exhibition was "rubbish"; commented on the "racism" of the both of us; and defamed us both.
On the strength of Cripps' self-confessed total ignorance of art, we  were presented by Redleg to the public as artists who should be shunned and rejected, as authors of objectionable, racist, art.
*  More can be read about Redleg's actions:
---
Details



(
the means by which Australia's judiciary enjoined with Cripps to attack us, our integrity and honour, and condoned race discrimination
)

*  According to Common Law we both had an interest to protect: our art (and the personhood expressed by it). The most recent affirmation of this principle was by the High Court in "Papaconstuntinos v Holmes a Court [2012] HCA 53 (5 December 2012)" which is based on an 1834 decision in "Toogood v Spyring" (Britain). Though this meant that the matter should never have progressed to court (as we were protecting our interest), David Francis Rashleigh Beach permitted it to do so (Refer Leave to Appeal to HCA).

*  Not only did Victorian judge Beach permit for the matter to be heard as a "defamation", when instead he should have thrown it out, but he also permitted for material that was not about Cripps to constitute a "defamation" of Cripps/Redleg as well. Beach permitted for:
        - Historic information regarding Palestine, which had nothing to do with our exhibition (irrespective of Cripps associating it with Palestine), and which is information not about Cripps or Redelg; (and)
      - information that is available from sources such as the Bundesarchiv, (which the Bundesarchiv has posted into the Wikimedia Commons and which is available to everyone);
to count as a defamation of Cripps, giving rise to the court's "Hitler imputation".

David Beach permitted for a defamation lawsuit to run against us over material readily found on the Wikipedia, material that is already published, information for which there is no prohibition to access, and not about Cripps/Redleg, to count as a defamation of Cripps/Redelg by us.

*  "The matter" finally went before Victorian judge Kyrou in March 2014. However, Kyrou could not make the finding he sought according to law. For Kyrou to make the finding he wanted to make, he first had to disregard law, ie s 88 of the Evidence Act, and illegally introduce his own falsities that were without any evidentiary basis.

*  During the trial (refer trial transcripts) Cripps was adamant to his total ignorance of art, having "no art background". Notwithstanding repeatedly insisting on the totality of his ignorance of art, Kyrou falsified his account of what Cripps testified. Kyrou fabricated – and the appeal judges Warren Ashley Digby were unperturbed with Kyrou's fabrication –  that Raymond had not shown, "even on the balance of probabilities" that Cripps was ignorant of art, despite Cripps' admissions.  
 Cripps' court testimony on the totality of his ignorance of art:

"I had no art background, I had no art training and I didn't understand, I didn't understand his essays, nor did I understand the paintings"
Trial transcript. P 388, lines 19-23

"I had no ability to interpret what was written. … I'm not an art historian. I have no ability to analyse actually what's been written"
Trial transcript. P 441, lines 6-10

"I didn't have the skill or the ability to understand what his works actually meant, what the writing meant. I don't profess to be an art critic. I'm primarily a business person that's involved in the arts. I don't have any art training"
Trial transcript. P 388, lines 10-14
*  The "WARNING!" posted by Redleg had been conceded by Cripps since early 2012:



"

The Respondents [Cripps/Redleg] admit that there was a sign at the bottom of the stairs in the Guildford Lane Gallery, leading up to level one, which said WARNING

"

The existence of the "WARNING!" was never disputed during the trial

. Nevertheless, facts did not prevent Kyrou from disregarding s 88 of the Evidence Act to fabricate a claim in place of the evidence given by Cripps. With no evidentiary foundation, Kyrou's fabrication was that the existence of the "WARNING!" was denied by Cripps in the trial and that our attesting to its existence was "evidence" of our willingness to lie. Kyrou required malice in order to find a defamation had been done, and Kyrou concocted malice by claiming we deliberately lied about something that Cripps had admitted to in 2012.

*  With regard to Cripps having operated a transport company, the

"Redleg Group P/L" which had failed, had its assets sold, and was deregistered by ASIC in 2005

, Kyrou made the following finding:

        - Kyrou accepted that the "Redleg Group P/L" was not involved in the suit against us;

        - Kyrou even explained that for a business to be defamed that it must have a "standing reputation" -

which

"Redleg Group P/L"

could not, as it had been deregistered in 2005 by ASIC

.

Though the "Redelg Group P/L" did not exist to suffer damage and was not party to the suit, Kyrou said another party which did not suffer damage would be paid damages in its place.

This, though entirely illegal

, did not concern the appeal judges including judges Keane and Edelman of the High Court.

* Both the Trade Practices Act and the Victorian Fair Trade Act (which were the relevant statutes at the time of the gallery hire) define that the services we had paid for must be "fit for purpose".

       - the TPA at s 74 (2) provides "

there is an implied warranty that the services supplied under the contract for the supply of the services and any materials supplied in connection with those services will be reasonably fit for that purpose or are of such a nature and quality that they might reasonably be expected

";

       - The Fair Trade Act at s 32J, provides "

Implied conditions in supply of services

", and at 32J (b) "

an implied condition [is] that the services are fit for the purposes for which services of that kind are commonly purchased

".

* The role and function of the service we had paid for (an art gallery) – what we expected – is described by the Art Galleries Association of Australia in its "Code of Practice" document (which we had submitted to the court in our discoveries):

        -

a gallery enables artists to develop their professional reputation

;

       - galleries have

an obligation to "represent the work as fully as possible and to best advantage and not to undermine the value of the work"

(point 9.1);

        - galleries

cannot require artists "to consent to something that would infringe moral rights"

(point 16.1);

        - galleries

must not "do anything that would compromise the integrity of the work"

(point 16.2).

Kyrou found, and Warren, Ashley, Digby, and later, Keane, Edelman, and Nettle, all agreed, that our expectation that Redleg's gallery would provide services consistent with an art gallery was an unreasonable expectation held by us as it was not in the contract, even though the law does not require it to have been in the contract. Redleg was exempted from having to comply with law.

*  In addition, Kyrou declared that there was nothing to stop actions taken against Vakras by Redleg on racially discriminatory grounds because of Vakras' use of Greek words written in Greek script in the exhibition. And this despite it being in breach of sections 9 and 13 of the Race Discrimination Act. Kyrou concluded that race discrimination was permissible because there was no prohibition to it in the contract and there was no "moral obligation" to do anything more than was written in the contract.

* A

complaint was made to the Human Rights Commission

on 10 June 2014 –

prior to Kyrou handing down his judgment

.

* Despite testifying in court (SCV) that he placed his disclaimers and "WARNING!" because Vakras had used Greek words "in another script", Cripps'  false submission to the Human Rights Commission was to "vehemently" deny that he had made any such testimony in court:

* A

rebuttal to Cripps' false declaration, along with the evidence showing that Cripps both lied to and mislead the Commission, was sent to the Human Rights Commission

.

* "The matter" then proceeded into the Federal courts (in whose jurisdiction lies the race discrimination complaint and the reputational protection under moral rights).

Having previously denied to the Human Rights Commission to have taken any action against Vakras and the art exhibition because of Greek words, Redleg submitted to the Federal courts that Greek words were indeed the actual reason for posting disclaimers and a "WARNING!":

*  The Federal courts eventually dismissed the matters that came before them even though Cripps had no prospect of success defending the actions complained of, as those actions were already admitted to by him. The "reasoning" proffered by the courts (Burchardt, Davies, Nettle) was the courts' claim that Kyrou had already "settled" the matter by ruling there was no moral necessity to prohibit race discrimination and nothing to prevent Redleg presenting us and our art in a way prejudicial to honour and reputation because their mention was absent in the contract.

* Finally in July 2017, Nettle [note below] of Australia's High Court affirmed the following:
      - the Race Discrimination Act is no longer in force in Australia. The possession of a racial characteristic now permits for a distinction to be made because of the characteristic and on the grounds of possessing the characteristic treatment on an "unequal footing" is now permitted by law; and
      - a judge's jurisdiction is now expanded to include within its ambit anything that is done by a judge irrespective of whether it is or is not permissible by law (legal or illegal), ie criminal.


Artists in Australia have no enforceable protection of their reputation previously found in the moral rights amendment to the copyright act – notwithstanding the introduction of this protection by the Australian government – and any artist who seeks to protect their reputation from attack will be attacked for doing so and defamed by the judiciary itself as we were defamed by Kyrou and the court's press-releases on social media. We are left with no other avenue other than to pursue our human rights in the United Nations.

A more complete (and technical) account of the above can be read both in the Mandamus against the Federal courts and in the Petition to Geneva.

[note: Nettle, in the bizarre 2006 judgment in the "Catch the Fire" appeal, ruled that criticising the tenets of a religion opens the critic to a defamation suit by followers of the religion whose tenets are criticised. Thus, if the Bible has passages calling for genocide, criticisng those passages could land the critic before the court to defend their "defamation" of Christians or Jews. The reward for Nettle was his promotion to the High Court of Australia.]
---
The Nature of the Complaint against Australia – bias

Despite ongoing involvement with the Greek Orthodox Church, Kyrou presided over a trial of our surrealist (and therefore atheist) art exhibition. Our exhibition directly and unapologetically showed how passages from Deuteronomy (and other Biblical passages) relate to Mein Kampf and Hitler. Kyrou should not have presided over this matter. He abused his position as judge MORE.

Judicial corruption is entrenched in Australia and is permitted by its highest court, the High Court of Australia. Though Australia is a signatory to, and has obligations under Article 11 of the United Nations Convention against Corruption, it has yet to enact any law that would curb judicial corruption.


---
Kyrou's decision - the international reaction (so far).
Israeli author Dov Ivry, writes on Kyrou's decision with a specific focus on its condoning of antisemitism in Injustice Hits Rock Bottom Down Under.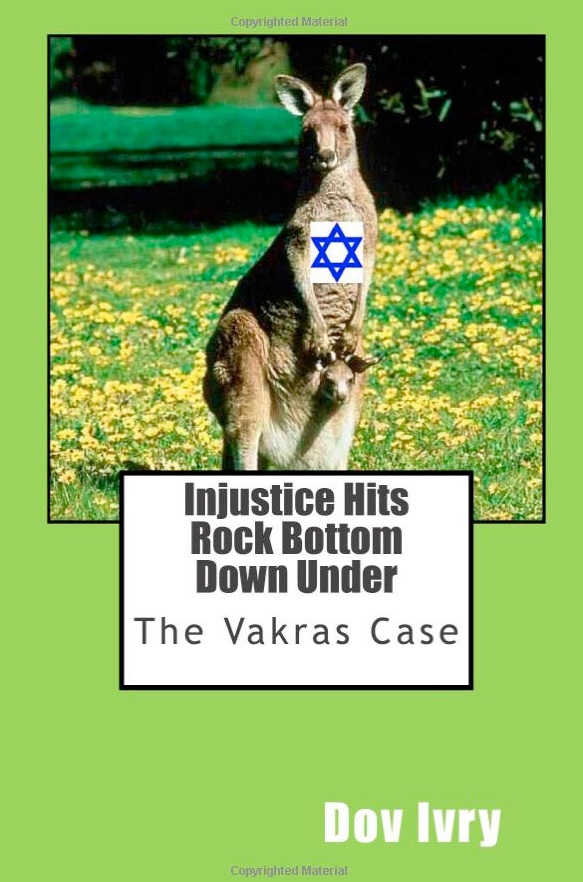 ---
Contact : Lee-Anne Raymond, or Demetrios Vakras
Artist sites : leeanneart.com , vakras.com
Summary of exhibition / publication launch HumanistTranshumanist.com
---
Emilios Kyrou disregarded the evidence to rule against us.

This is the transcript given to us by the court, the very evidence disregarded.

Cripps admitted to having no knowledge of art, to having no understanding of art, to having no knowledge of art history, to having a limited education ("form 3", 3rd year high school), and that he only ran the gallery as a business without knowing about art. However, the judge Emilios Kyrou ruled that Cripps understood art.

Cripps claimed that he had placed disclaimers throughout our exhibition because 1) the essays were too complex and he didn't know what they meant, 2) that there were labels with Greek writing, necessitating disclaimers (despite no label to be seen in any photograph), 3) that it was necessary because though he did not understand what was written, it might be "anti-Palestinian", 4) that disclaimers of liability and dis-endorsement of exhibitions are standard to all exhibitions, 5) and then contradicting himself to admit ours is the only exhibition in which disclaimers were posted. However, despite Cripps' own contradictions, the judge found that disclaimers dis-endorsing exhibitions are standard in galleries hosting exhibitions.

A book has been written on the case by Israeli author Dov Ivry. It references both the "finding" made by Kyrou (which condones antisemitism and is available on Austlii) and the transcript from the trial (which is uploaded to Scribd).

Injustice Hits Rock Bottom Down Under is available from Amazon.
---
Petition to fix Australian law
This site (Redleg V Artists) is hosted on a USA server.
The USA has legislated against Libel laws of countries such as Australia. Australian and UK libel law is defined as Libel Terrorism by the USA.

We are petitioning the Australian government to amend the Defamation Act of 2005 to end Australian Libel Terrorism and to make Australian law consistent with its international obligations.
Support our petition here:http://www.change.org/en-AU/petitions/the-hon-mark-dreyfus-qc-mp-amend-the-australian-defamation-act-2005